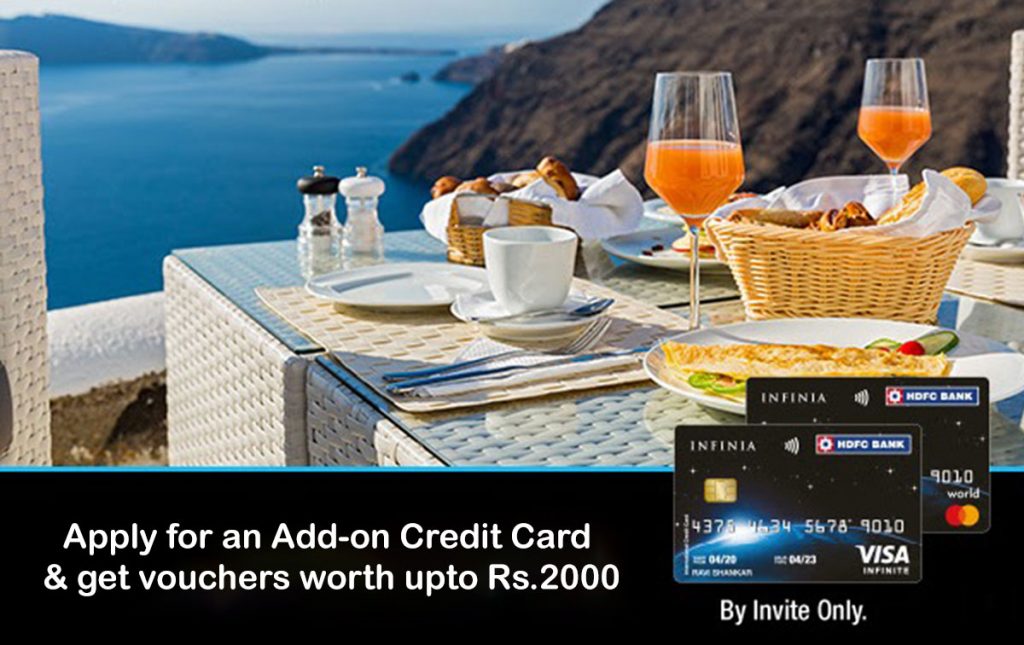 Offer Details
| | |
| --- | --- |
| Offer | Get Vouchers on each new Add-on Credit Card approval |
| Spend Requirement | Rs.500 (Offline) within 60 days of card approval |
| Voucher Value | Rs.2000 for Infinia/Diners Black ; Rs.1000 for Regalia ; Rs.500 for Millennia & Regalia First ; Rs.250 for other cards |
| Voucher Options | Amazon, Myntra, Grofers |
| Max. Free Cards | You can get upto 3 Complimentary Add-On cards |
| Max. Vouchers | 1 voucher per account. |
| Fulfilment | ~60 days from Card Setup |
| Validity | Expires by 30th Sep 2020 |
| Source | Terms & Conditions |
Its undoubtedly a great offer from HDFC Bank and it makes sense to go ahead and grab the offer as its only few clicks away.
Yet, I wish they had given vouchers for as many new add-on cards taken + maybe even with higher spend requirement for super premium cards.
If you've not got the offer email, not to worry, you can avail the offer too. Its open for all, irrespective of whether you received a communication for it or not.
How to apply Add-On Card?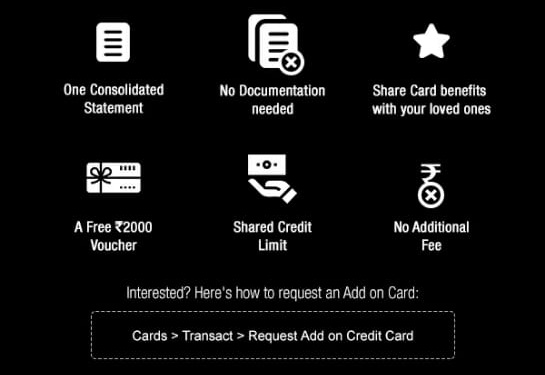 Its pretty simple process, especially when the add-on cardholder has an account with HDFC bank. Just head on to:
Card -> Transact -> Request Add-On Credit Card
Once applied, you should get the card in hand within a week. However, Covid-19 may delay this a bit now.
That aside, remember, you can only give Add-on cards to your close family members like parents/spouse/child and not to friends like with Amex, which I believe is one of the important feature that our Indian credit card Issuers should consider adding.
Final Thoughts
Its good to see Add-on Card offers from HDFC Bank, as its probably the first one I ever know. Ideally you can get voucher worth upto Rs.2000 in few clicks.
Offers like this is coming out because of Covid-19 as it reduces the banks ability to issue new primary cards at pre-covid scale.
So this may help banks to increase card accounts and maybe they will end up sending out pre-approved offers to those Add-on cardmembers in future.
Speaking about Add-on card offers, this makes me to expect a good offer from American Express as well, as they ended their lucrative Amex supplementary card offer few months ago.