Every year American Express runs a lucrative festive promo that gives handsome rewards based on spends. Last year, they ran 24k Gold Diwali – Tanishq Gold Vouchers worth Rs.20,000 promo that allows us to save effective 10% on any spends in form or Tanishq vouchers. This year too, American Express is running a similar promo but they've made it more difficult to avail the offer.
American Express 24K GOLD Diwali – Offer details:
Amex is presenting the 24K GOLD Diwali offer for 2017 and the details are below.
Offer period: 20th September to 20thOctober, 2017
Spend #1: Rs.90,000: Get Rs.5,000 Gold Voucher (or)
Spend #2: Rs.2,50,000: Get Rs.12,500 Gold Voucher
Offer excludes spends made on Travel bookings. Full list of excluded merchants are here
Offer is limited to one Card account per customer. In case the Cardmember holds and enrolls more than one eligible American Express® Card(s), the Card with the highest spend will be considered for the Offer
Offer is valid only on Proprietary Amex Consumer Cards and excludes Co-brand Consumer Cards.
Spends on the Supplementary Card(s) will be accounted under the Basic Card. The Supplementary Card(s) need not be enrolled separately.
The Gold Voucher will be in the form of either a Tanishq Gold Voucher or from any other leading jewellery brand in India.
The Voucher cannot be redeemed against purchase of gold and silver coins, jewellery cleaning kit, gift cards and
purchases under Golden Harvest Scheme.
Fulfillment: The Gold voucher will be sent to you on your registered email ID within 90 days from the programme end date. In some extreme cases, this may take up to 120 days from the programme end date.
So, that's: increased spend criteria, reduced savings, limitation of 1 card per customer. That's a lot of restrictions! Now you can save only effective 5% compared to 10% last year.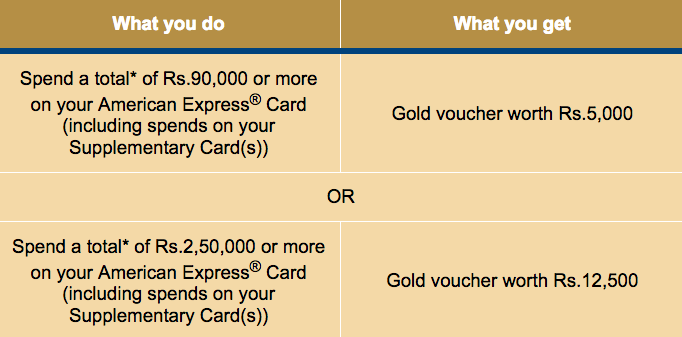 Further more, while redeeming the voucher, you might need to spend a bit more to use it effectively. Considering multiple other factors in redeeming, you end up saving lesser than 5% as you can't redeem for Gold coins.
Bottom Line:
American Express has disappointed me this year with tiny savings on their big festive promo. I wish they kept it at 10% savings, maybe with different voucher option like Taj stay vouchers, which could cost them less compared to Tanishq.
That all being said, the promo still holds "decent" as you also get reward points on these transactions. Its probably the right time to put your spends if you've just got approved for their Amex Membership Rewards as LTF.
Overall, this year's Diwali promo by American Express doesn't excite me as much as it did last year. How about you? Feel free to share your thoughts in comments below.