Founded in 2015 by Vir Sanghvi and other top hoteliers, EazyDiner is a restaurant table reservation platform similar to Dineout & Zomato. Eazydiner is backed by the Cricketer Yuvraj Singh and he's not only a brand ambassador but also an investor as he had invested in EazyDiner via his venture capital.
By early 2018, Eazydiner in partnership with American Express launched the premium dining program called EazyDiner Prime that comes with up to 50% discounts on the total bill and in some restaurants in addition to the discount, there are premium complimentary drinks for the entire table. The Eazydiner Prime membership is now available for public too.
Why EazyDiner Prime
I've been using Dineout for quite sometime as i had some credits in the Dineout Pay wallet. Now that i've used all of it, i've been searching for better offers across various dining apps. That's when i came across Eazydiner Prime through Amex promo and was surprised to see 25% off on many restaurants even in Chennai.
Good thing is that many restaurants in SPG/Marriott hotels are included in their network too. This makes my life easier as i stay frequently at Marriott properties in recent times.
How to get?
Paid Membership
Amex Offer
Complimentary for 1 Year: EazyDiner Prime membership is currently given complimentary for 1 year to select American Express Card variants. You can get it if you hold any of the below Amex cards:
American Express Centurion
American Express Platinum
American Express Platinum Reserve
The 90 days trial membership on other cards like Amex Jet card that i have has been revoked.
Citi Offer
100% Cashback on Subscription fee with Citi Prestige
50% Cashback on other Citi cards
Coverage
Like most other dining apps, you get access to restaurants in most metro cities. It has slightly better coverage than Dineout and the full list is here,
Delhi NCR
Mumbai
Bengaluru
Chennai
Pune
Kolkata
Goa
Ahmedabad
Jaipur
Hyderabad
Chandigarh
International: Dubai
My Experience
I recently used the Eazydiner at Aloft Chennai OMR – IT Expressway for a lunch buffet when i was on the way to Taj Fisherman's Cove. I booked a table just for myself with Eazydiner Prime offer: 25% off on bill amount and called up the restaurant to re-confirm. They had various options in Buffet ranging from 650-1500 INR and i went with the lowest.
I had been to this property earlier for a night stay but this time it was just for lunch. It was surprising to note that they were treating me like a super premium customer. Maybe because it was due to Eazydiner Prime or maybe as i went alone? not sure!
The guys at restaurant were quite kind and a lady was trying to proactively help me with all available food options. She prepared some special pasta for me like this: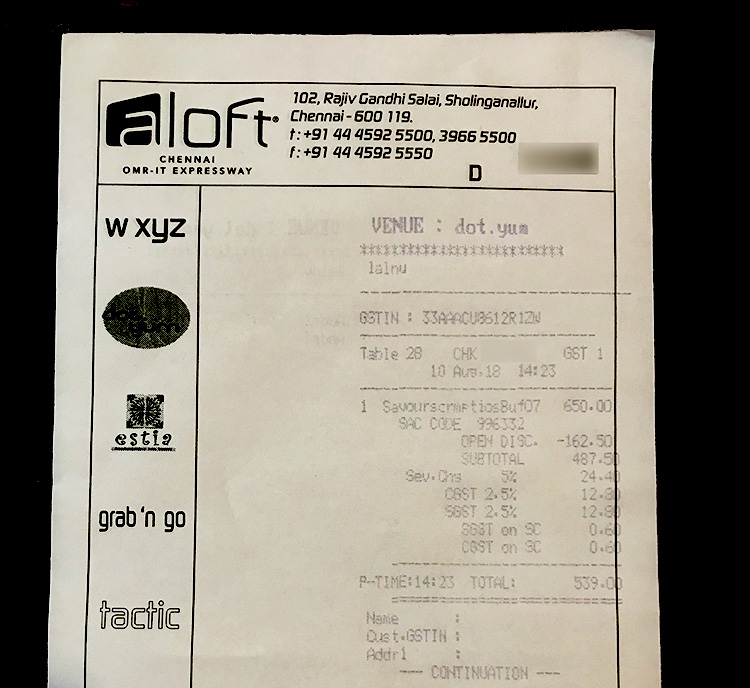 Then comes the billing part. Looks like the restaurant manager was kinda surprised to see someone avail a deep discounted offer and he even came to my table to politely check where/how i booked it!
Anyway, the overall experience using Eazydiner was quite good and the lunch buffet too was delicious. I saved ~Rs.160 which isn't much, but if you're dining as a group, you could save a lot!
Offers
They run different offers ranging from 25-50% off on bill and also the 1-1 deals. Recently they were running an "eat out festival" with 50% off on the bill and a lot more.
Just to compare, if i had been to above restaurant during this period, i would have saved 50% instead of 25%. You'll need to pay for the coupon anyway, which costs: ~Rs.100
New to Eazydiner? Download the app and use the referral code: SIDDH9511 to get Rs.500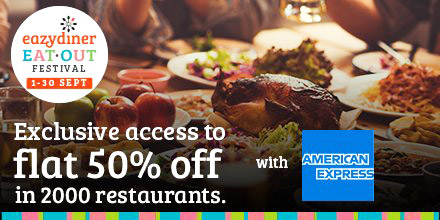 Bottomline
With a recent funding (41 Crores), a significant portion of it goes to expand its presence and to improve its loyalty programme — EazyDiner Prime. You wouldn't have missed the Eazydiner eat-out festival promos by any chance, did you?! They're leaving no stones un-turned to capture the market share.
Cardexpert Rating: 4/5 [yasr_overall_rating]
Overall, its a wonderful app with neat & clean UI and the Amex Offer to get complimentary access to Eazydiner Prime is like icing on the cake. That's the 6th reason why you should have American Express credit card in your wallet!
Have you used Eazydiner and how's your experience? Feel free to share you thoughts in the comments below.