There are plethora of cards in India and it's always confusing to choose which and why. While I've already listed the best credit cards in India that are most popular, here are 5 major reasons why you should consider holding at-least 1 American Express Credit Card in your wallet.
5 Reasons to have an American Express Credit Card
#1 Lost Card Liability
Not everyone knew this biggest benefit that comes with American Express credit cards. With American Express, you can be sure that the money is safer than ever.
If you find a fraudulent transaction on your Card on account of it being lost or stolen, relax. Because, if you lose your Card, your liability is nil after reporting the loss, and is limited to a maximum of only Rs. 1,000 before reporting.
So a little bad luck doesn't have to be a total nightmare. American Express is able to process this quickly because their advantage is that there is no third party networks involved in authorizing/processing/settling the transaction.
#2 Emergency Card Replacement
With Emergency Card Replacement, if you lose your Card American Express will replace it, usually within 48 hours, wherever you are in the world. So you can go about your day just the way you always have – worry free.
I'm lucky that I haven't lost any of my cards yet, but if I do, I can count on American Express. I've heard couple of cases during my consultancy that how American Express saved a lot of time in getting the card replaced during foreign travel.
#3 Friendly Customer Support 24/7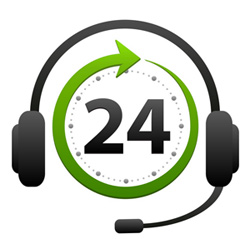 Undoubtedly, American Express is famous for its world class customer support. They not only greet you with full of energy at 2AM, but also get things done over a phone call.
They also go beyond the expectations at times. For example, I redeemed the MR points over a call for a statement credit 3 days back. They not only did it within a minute, but also called back today to confirm that the credit now reflects on the statement.
#4 Incredible Offers
American Express is known for their aggressive promotions with various Travel and lifestyle partners. Good part is they notify you over email, on time. Here are some of the great offers in recent times.
Some of them are for a very short period, while some of them lasts longer than that Ex-Girlfriend relationship 😀
Using American Express Card also brings along a world full of rewards. American Express proves opportunity to earn special rewards, extra quick specially with the American Express Membership Rewards Credit Card. (4 Txn's each of Rs.1000 or above in a month will get you 1000 Bonus points every month)
The fabulous 18 carat and 24 carat Gold Collection allows cardmembers to redeem rewards for products ranging from Bose SoundLink Speakers, Tanishq Voucher, luxury stay at WelcomHeritage Hotels, Good Earth and Amazon Gift Cards or just direct statement credit.
Also, the best part about these Membership Rewards are they never expire. Well yes now you also have an option where you can redeem your accumulated Membership Rewards Points for luxury cars from BMW.
#5 Car Insurance with American Express
I bet most of you may not be aware of this, or just not utilized it. American Express has Car Insurance Solution tied up with Bharti AXA, to provide better insurance solutions to American Express Cardmembers.
Last week I shifted my Car insurance policy from Bajaj Allianz to Bharti Axa, just because American Express was running a "65% OFF on the car insurance renewals". I saved ~Rs.3000 (its was 55% on OD, 35% cheaper overall) on my car insurance renewal over email (paperless process).
Contact: [email protected]
I can't comment on how good is Bharti Axa over Bajaj Allianz, but so far the email response time from the American Express Insurance team is pretty fast and i would suggest you to give it a try if you haven't yet.
Bottomline
American Express is able to provide such excellent premium service because all American Express Cards carries an annual fee. However, if you consider the benefits and offers mentioned above, you'll not only get the value back for the fee paid, but also end up saving a lot – A LOT especially if you avail the travel offers.
If you're new to Amex and wish to avail all the above benefits American Express MRCC card (LTF offer is running- Apply) is one of the best to get started for beginners. What American Express cards do you have and Why? Feel free to share your experiences in comments below.