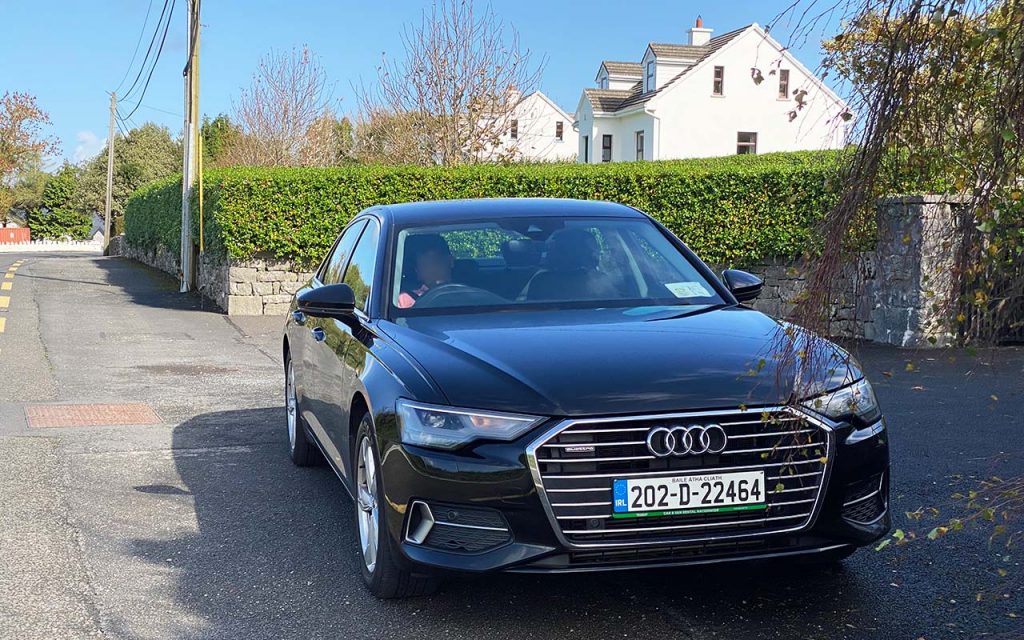 I was in Ireland and UK on a month long trip during Sep/Oct 2023 and was doing a couple of day trips often. One fine day me and my friend decided to take a rental car (self-drive) in Ireland to explore Galway & Cliffs of Moher for a weekend from Dublin.
And here I'm sharing my experience with car rentals in Ireland which might be useful for you when you're exploring Ireland or anywhere in Europe for that matter as it works largely similar.
Btw, both UK & Ireland follow left lane driving (driver on right) just like in India, I guess it's because Ireland and India were under British rule. And one can drive in Ireland with Indian driving license.
Amex Concierge
So to begin with, I requested American Express Platinum Travel Concierge to look for available options.
While I'm happy with Plat Concierge in the past couple of years, I'm quite disappointed recently with the drop of email support, which I'll cover some other day.
So I was given a decent option through Hertz as Amex Platinum has Hertz Gold membership discount. Here's a Quick Look: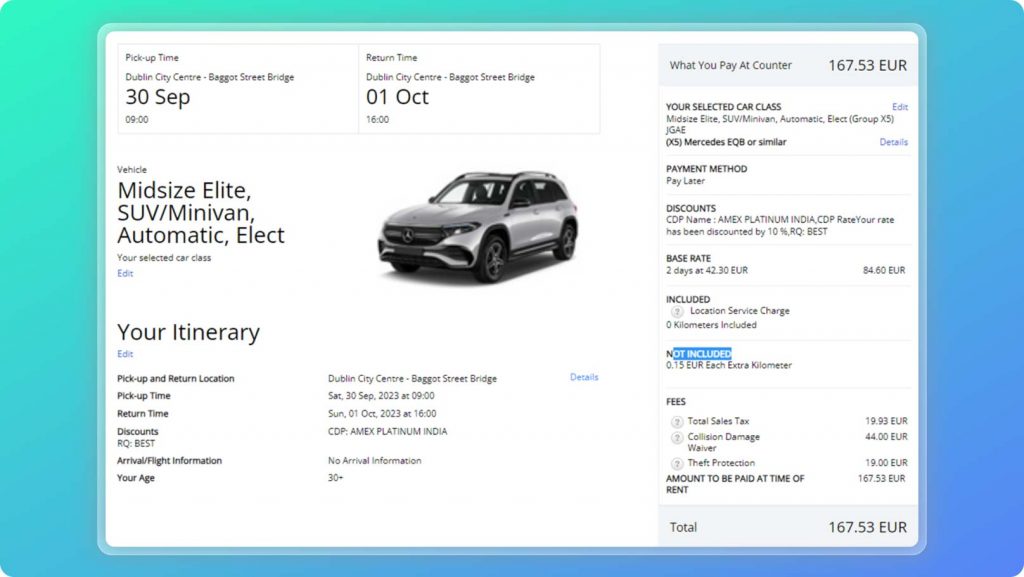 I guess that's a fair price for a premium Electric Vehicle. But I thought of booking it later and left it there as I prefer to book when travel date is closer.
Hertz Experience
As the days got closer, I started exploring options on the hertz website only to realize that it's such a painful experience to search on their website, especially when you want to check the availability on multiple locations nearby.
I wonder how on earth Hertz is running a massive business with such a poor user experience.
Anyway, the problem was that no cars were available 2 days prior. On checking why, I heard my friend say that a lot of Europeans travel during weekend and so it's obvious!
So I started looking at other options like kayak, etc and finally found a decent deal on booking.com for Ford Focus and most other options were unavailable.
Booking.com Experience

It was quite a surprise that we were able to book a nice car for 50€ a day+ 20€ insurance (120EUR in total) for 2 days, as other portals were showing higher rates.
That aside here's something I got to know:
While looking for options, one thing that set out booking.com from others is that almost every site redirects you elsewhere with totally different options than what was chosen, but booking.com had all the details with them without any redirection and with very good user experience.
At Dublin airport
So we went to the Dublin airport's car rental counter and could see large queues, like 20 in each counter easily.
Europcar queue was as high as Hertz but fortunately they moved us directly to the pickup center as we had the booking already.
That aside, one thing I noticed is that there is a separate line for "hertz gold" which is available as complimentary with Amex Plat Charge as mentioned before. That's easy 1hr savings at airport if you're into Hertz car rentals. 
EuropCar experience
We finally went to EuropCar's pickup area at Dublin airport an hr or so past our actual reporting time.
The counter guy at Europcar pickup centre was very friendly and came up with something new, which was a different insurance plan with "no excess". 
In other words, no matter how big or small the damage is, we don't need to pay anything. This costs 80€. So the options were like:
20€ prepay, 1600€ hold on card (booking.com plan)
80€ prepay, no hold, no liability (Europcar plan)
We went with 80€ plan to have a peace of mind. So now the guy went to check the availability of the car, only to come back saying that the car isn't available now.
After going back and forth to check the availability for an alternate option which is Toyota CHR, he finally came back with a key and said, "I've something special for you guys today".
After a bit of paperwork he finally said "I've upgraded your booking to Audi A6 etron hybrid and here's your key".
Wow!!
We were extremely pleased to hear that and at the same time worried a bit, as part of the trip has to be done through narrow roads along the Wild Atlantic Way.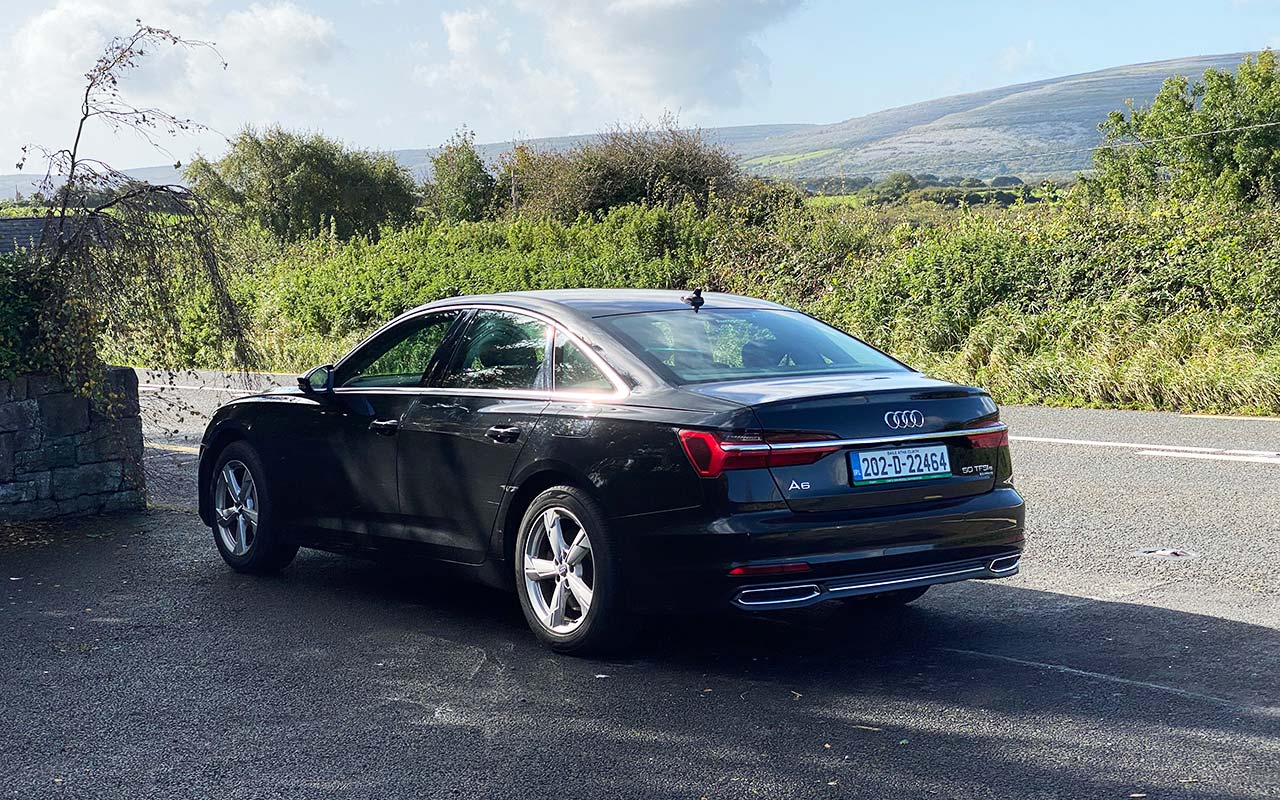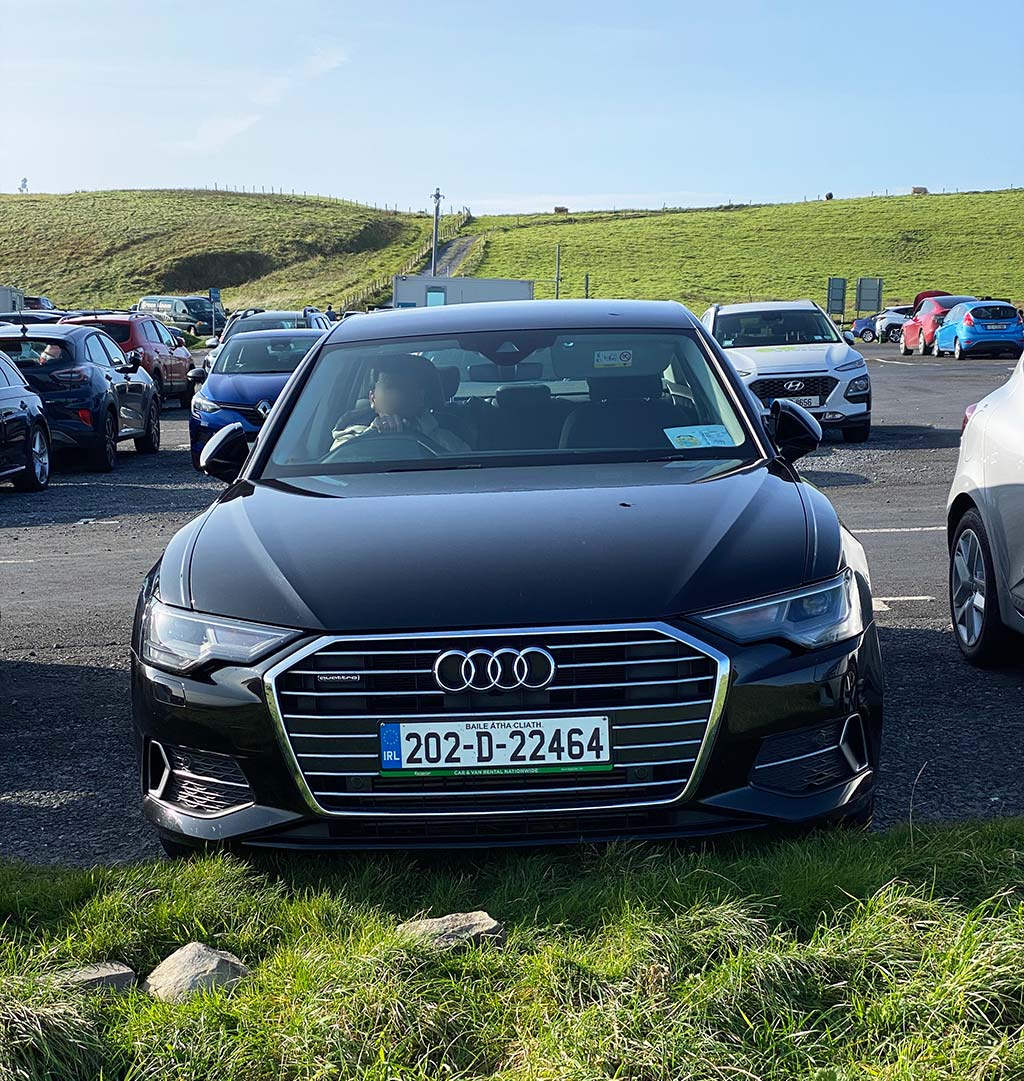 Eventually everything went well with gods grace and the overall trip was way beyond expectation.
Audi A6 etron was extremely smooth, stable and comfortable even at 120 Km/hr speed just as anyone would expect it to be. Dashboard shows how much energy being used from battery/ICE in real-time and in reality one couldn't find any difference from a typical ICE.
That aside, booking.com refunded the 20€ insurance part of the initial booking as we took an alternative one. I had to raise a request for the same with all the documents and refund came to card in a week. 
Final Thoughts
So overall it was amazing to experience the Europcar's car rental service and we would perhaps return again when in need, likely via booking.com whenever possible.
Having said that all, it's worthwhile to mention that Europcar even operates in India with chauffeur driven cars and our most popular airport transfer services on axis (they keep changing though) and Bank of Baroda uses Europcar's eco-rent-a car service.
So here's the takeaway,
It's better to book the service a week prior to trip date
Going bit late during weekends might get you an upgrade, but risky as it might get sold out.
Insurance plan can always be decided and taken while taking the car, so better not to prepay
Booking.com for car rental is lot better than direct service provider websites or other aggregators
While my experience might be just out of luck, I'm unsure how many such upgrades happen in a typical day. If you've taken Rental Cars in Europe or US before, feel free to share your experiences in the comments below.