After the Amex 2020 Diwali promo, here is yet another offer from American Express with additional rewards on regular spends. This is also a targeted offer, but I see many have got it, unlike the Diwali promo which many did not receive. Here is everything you need to know,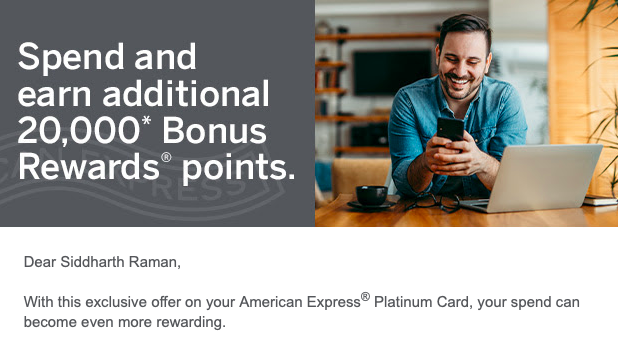 Offer Details
Offer: Get additional XX,XXX Membership Rewards on spending Rs.YY,YYY
Eligible Spend Types : All spends.
Offer Valid for: Select Amex Card holders
Offer Period: 28 Nov 2020 to 30 Nov 2020
How to opt-in for offer: auto enrolled
Fulfilment: February 28, 2021
Speaking about offer variants, there are few types and here are the ones I came across:
Spend Rs.20K and get 4K points
Spend Rs.10K and get 2K Points
Spend Rs.50K and get 20K points
There could be few other variants too. I fortunately got the 3rd offer which is highly rewarding one with handsome return on spend.
Update: This offer was fulfilled on 22nd Dec 2020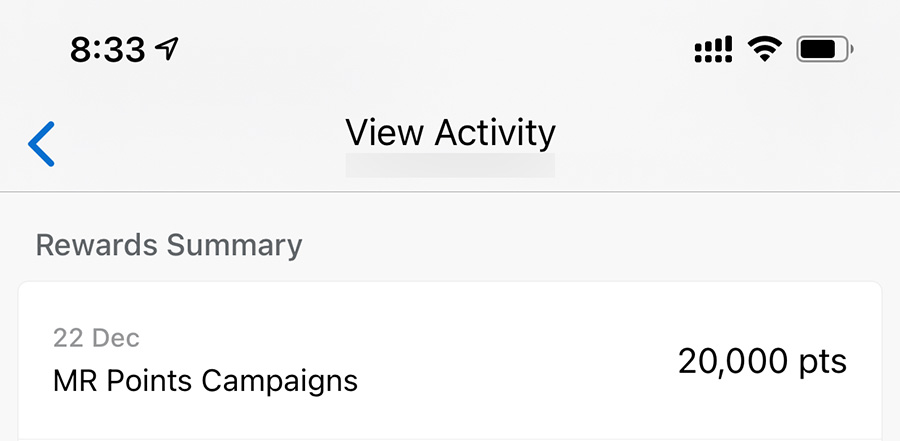 Bottomline
Its always good to see Amex spend linked offers but this one is only for 3 days, which is too short for most. Moreover, now Paytm started charging for wallet loads, so that's another problem for some Amex cardholders to reach the spend requirement.
Anyway, I'm happy to see this offer on my platinum charge card and this sort of makes up for not receiving the Diwali Offer.
What offer have you received? Feel free to share your thoughts in the comments below.