I have been using the American Express Credit Card for over a year now and it is time I posted a review on it. In India, people call the Amex card a credit card but in reality it is just a charge card. Which means that you will not be able to convert your spending into EMIs or move on by just paying the minimum dues.
You have 20-50 days interest free period just like any other credit card but you have to pay off the dues in full. Else you know what happens, your credit rating will go down and people will knock at your door!
Getting Your Application Approved
American Express Credit Cards are not that easy to get. You will be able to apply for a card only if you live in a major city like Bangalore, Delhi, Mumbai or Chennai.
Also your income has to be more than Rs.50,000 a month and you should have a good credit rating. My application got declined once when my salary slips showed Rs.80,000+ a month in salary. I applied again after a year when my salary was more than Rs.1,00,000 a month and then it got approved.
My Amex card is a co-branded card with YesBank but apart from the YesBank logo on the card, there is no other interference from YesBank.
Amex Credit Card Fees and Charges
For the first year the charges / fees for holding this card is just Rs.1000 + Service tax. However from the 2nd year, the yearly charges are Rs.4,500 plus taxes. With taxes, your total cost of holding this card would be around Rs.5,100. But is it worth paying so much for a card?
It depends on how you are using it. The points and benefits that you get from this card will be more than what you pay as fees. Also if you ask the customer support for a waiver of the fees, they are likely to waive it for a year.
Also there is no charge for getting a replacement credit card if you lose your card or if it gets damaged. You can have up to 3 addon credit cards on your family member's name but all of them will be linked to your card.
Rewards and Benefits
If you use the Amex card for 4 times a month with transaction value of more than Rs.1,000 in each transaction, you will end up getting 1000 reward points in that month. Based on the rewards catalog they have, these 1,000 points translate to around Rs.250 to Rs.300 in value. (keeps changing often)
If you end up getting 1,000 points every month, you will get 12,000 points in a year as a bonus apart from the regular points that you get for spending. Let's say you earn 15,000 points in a year. This means that you will get at least Rs.3,750 worth of points. This means that around 75% of the fees are covered by your points itself. However you will end up spending more and you will at least make up for the fees that you pay.
Update as on April 2016: (updated by Siddharth)

To make the most of your card, you need to earn 18,000 Reward points (Get Rs.7,500 as statement credit) or 24,000 Reward points (Get Rs.10,000 as statement credit) to avail the milestone rewards.
To get 24,000 Membership Reward points and to avail Rs.10,000 as statement credit, you will need to spend approx 6 Lakhs, provided, you spend 4 times on transactions of Rs. 1,000+ every month. After deducting the annual fees, you will end up receiving ~1.6% reward rate on your spend.
To get 18,000 Membership Reward points and to avail Rs.7,500 as statement credit, you will need to spend approx 3 Lakhs, provided, you spend 4 times on transactions of Rs. 1,000+ every month (which is Rs.50,000 + 2.5 Lakhs Additional spend). After deducting the annual fees, you will end up receiving ~2.2% reward rate on your spend.
That's too much of monthly discipline to follow to earn bonus rewards.
Downsides of American Express Credit Card
Like every credit card, Amex also has its downsides. In many places Amex is not accepted. If you are a merchant who uses a platform like Instamojo payment gateway, you can't take payments via Amex cards
Also if there are any payment gateways that does allow Amex card payments, the fees for the merchant are higher than VISA and MasterCard. That's one of the reasons that it is unattractive for merchants to take Amex payments.
Online Banking Interface
The online banking interface is not that great but it serves the purpose. Here's a screenshot from my account: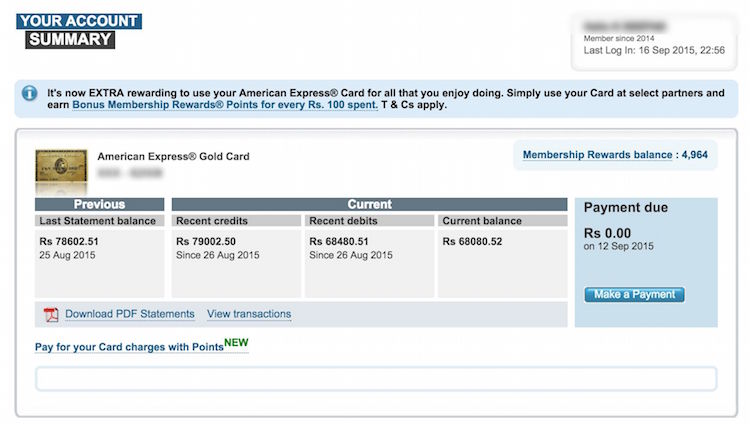 To pay your dues you can make a payment via NEFT or pay online from any bank account. And just like any other credit card, you cannot pay your credit card dues with another credit card!
Features of American Express Gold Charge Card (India):
CardExpert Rating: 4/5 [yasr_overall_rating]
Reward rate: ~1.6%  normally, upto ~2.2%
Complementary Airport lounge access: No.
Foreign Exchange Markup fee: 3.5% + Service Tax
Special Features: Monthly Rewards.
Joining Fee: Rs.1000+ Taxes ~ Rs.1,140

Annual Fees: Rs.4500+ Taxes ~ Rs.5,130
Conclusion
Amex is not just a charge card or a credit card. It is more of a status symbol if you hold it. And if you are an entrepreneur who uses a lot of online services, the card will come in handy when you want to pay online out side India. Just like any other credit card a 3.5% mark up fee is included if you want to pay in USD.
Why Amex? Its a global brand, so, if you are thinking to move to USA or different country, its easy to get Amex credit card in new country on basis of your credit card usage history in India. Citibank as well has this advantage.
Its a good choice to hold one, if you can spend ~3Lakhs in a year so as to avail bonus reward points. Anything above or below that spend does no help in good earning rewards compared to HDFC cards. Check out HDFC Regalia which gives 2% rewards across all spends with no monthly spending rules. Its good for high spenders.
Must Read: 5 Things You Must Know about Amex Gold Charge Card
Any questions? Leave a comment below.