SBI recently launched a unique credit card exclusively for the Doctors (Medical Professionals). Although the card serves a very unique proposition, but this is not the industry first. This same kind of concept exists for HDFC Bank's Credit Card which has the Doctor's Superia Credit Card (and Doctor's Regalia) in it's arsenal. However, this product from SBI is far above the HDFC Superia in terms of facilities and benefits. Let's have a closer look at what this card has to offer.
Joining/Renewal Fee: Rs 1499 + GST (Renewal Fee is waived on 2 Lakh Spends in a year)
Welcome e-Gift Voucher: Rs 1500 from Yatra.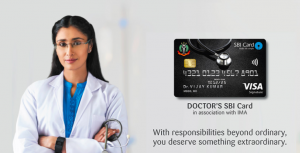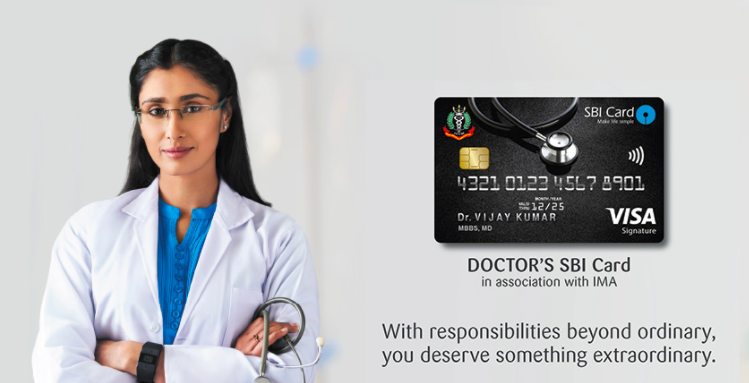 Doctor's SBI Card Features and Benefits – Review
#1. Welcome Gift
Welcome Gift e-Voucher worth Rs 1500 from Yatra.com. We will see further in this review that this card is specifically targeted for Doctors who have to travel a lot too. So it's no surprise that the Welcome Benefit has e-voucher only from Yatra.com which can be redeemed online
#2. Reward Points
5 RPs/Rs 100 spent on Medical Supplies, Travel Bookings and International Spends (1.25%)- This includes Travel Agents and Tour Operators with MCC- 4722 and Medical, Dental, Ophthalmic and Hospital Equipment and Supplies with MCC- 5047
5 RPs/ Rs 100 spent on Doctor's day- 1st July each year (1.25%)
1 RP/ Rs 100 spent on all other purchases and spends (0.25%)
1 RP= Rs 0.25 (This can be adjusted as statement Credit Too)
Reward Redemption Fee- Rs 99 + GST
#3. Milestone Benefits
E-Gift Voucher from Yatra.com/Bata/Shoppers Stop worth Rs 5,000 on achieving annual spends of Rs 5 Lakhs.
Also, as mentioned above, the annual fees of Rs 1499 + GST is also reversed if you spend over Rs 2 Lakh in a year.
#4. Professional Indemnity Insurance
Professional Indemnity Insurance of Rs 10 Lakh. Litigations are very common in Medical Profession and almost all medical practitioners have an indemnity insurance. This card gives a coverage of Rs 10 Lakh without any premium. This is unique and is given by no other card in the country as of now.
Reimbursement all Legal & defense costs, out-of-court settlement expenses and court awards
0% Sum Insured will be deductible. This effectively means, there is no premium to be to deposited for the cover of this policy. Just by keeping and using this card, you are very much insured.
#4.  Unique International Benefits
International mark Up Fees : 3.5% (It was earlier 1.99%, now SBI has updated it as 3.5%)
Emergency Card replacement Fees, when Abroad- NIL (Yes!, You read that right. At least that is what is written on SBI Website as of writing this post). Usually, it is the VISA/Mastercard that replaces the card on an emergency basis while you are travelling abroad and somehow have lost the card or if have been forced to block the card. The fees is said to be actuals subject to a minimum fee of $175. However, here SBI has said that the fees for this emergency replacement, while abroad is NIL. However, I'll take this with a pinch of salt and it needs to be confirmed with SBI directly.
These two propositions, place this card very high among the choices of a good international travel card.
#5. Airport Lounge Access
International: 4 complimentary visits per year to International Priority Pass Lounges, outside India (max. 2 visits per quarter)
Domestic: 8 complimentary visits per year to Domestic in India (max. 2 visits per quarter). Though it isn't mentioned whether the domestic lounge access are via VISA or MC, but it's safe to assume from the picture, that at least VISA is sure to be there since the picture shows the card to be on Visa Signature Platform. While looking at the terms and conditions, I couldn't find Mastercard anywhere. So it might mean that this is Visa Signature Exclusive Platform card
This card has been launched in association with the esteemed Indian Medical Association (IMA) and is the only card in India to be so. IMA is the only representative voluntary organisation of Doctors of Modern Scientific System of Medicine. Amidst crisis situation in India where the patient and the doctor trust is deteriorating day by day and incidence of violence against doctors at work place, by aggrieved relatives is on the rise, it's a welcome move by IMA. I am sure, many readers of this forum who are medical practitioners will appreciate the move and would love to own this card.
Cardexpert rating: 4/5 [yasr_overall_rating]
The card also embosses your professional qualifications and the salutation giving a a little privileged and unique feel. Not that this is a big move but it doesn't hurt either.
Do let us know how many of you medical professionals are willing to go for this card. We would be also happy to hear from other readers whether they think doctors should go for this card or better stick with other good cards from SBI like SBI Prime Card.