While a lot of us are aware of the fact that award flights like JPMiles redemptions on Jet Airways Business Class gives a great value for points, not many are aware that even Vistara's CV Points are equally good in all aspects.
Though, there aren't much CV points earning opportunities out there, as there are only few Vistara credit cards that could get you CV points. Also the points transfer on other credit cards don't make sense to most either. So, this is not usually spoken much.
But now you've an opportunity to redeem at 30% lesser points than usual. Here's the offer that i got today from Vistara,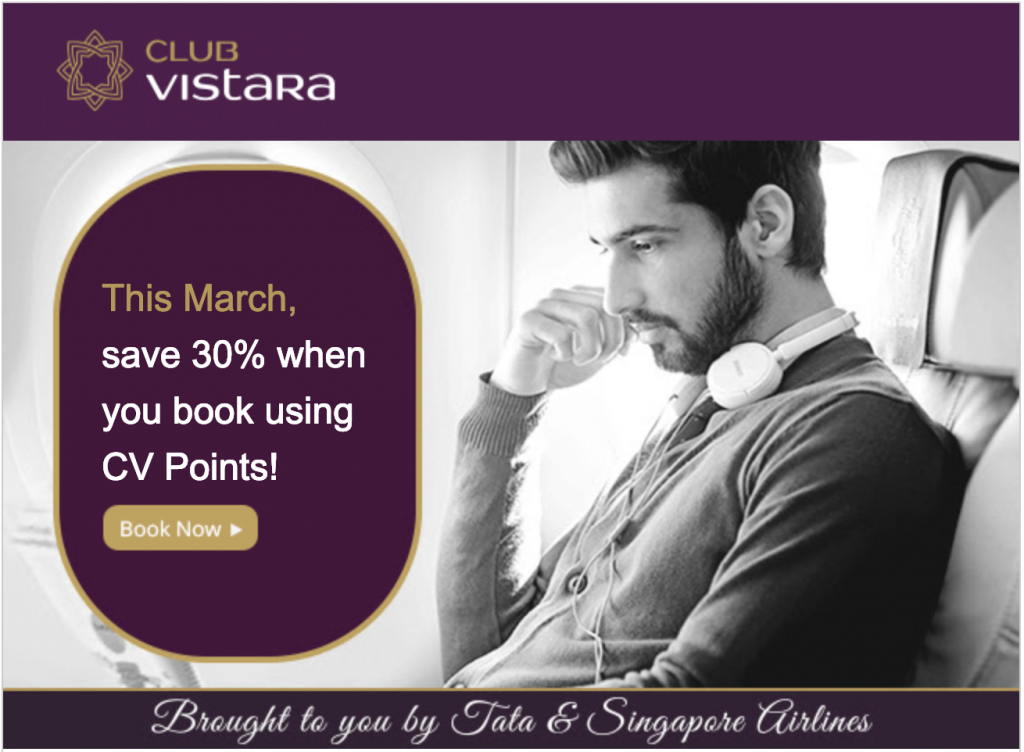 Offer Details
Offer valid for redemption of Award Flights between 7th March 2019 and 31st March 2019.
This offer is valid for select destinations for bookings and travel between the said dates.
Valid across all cabin classes on Vistara network
Limited seats are available under this offer
In the event of re-issuance of Award Flight after the offer period, regular redemption fares shall be applicable
All offers are subject to change without notice and may not be combined with any other offer and have no cash value
Below are the list of destinations & the CV Points required.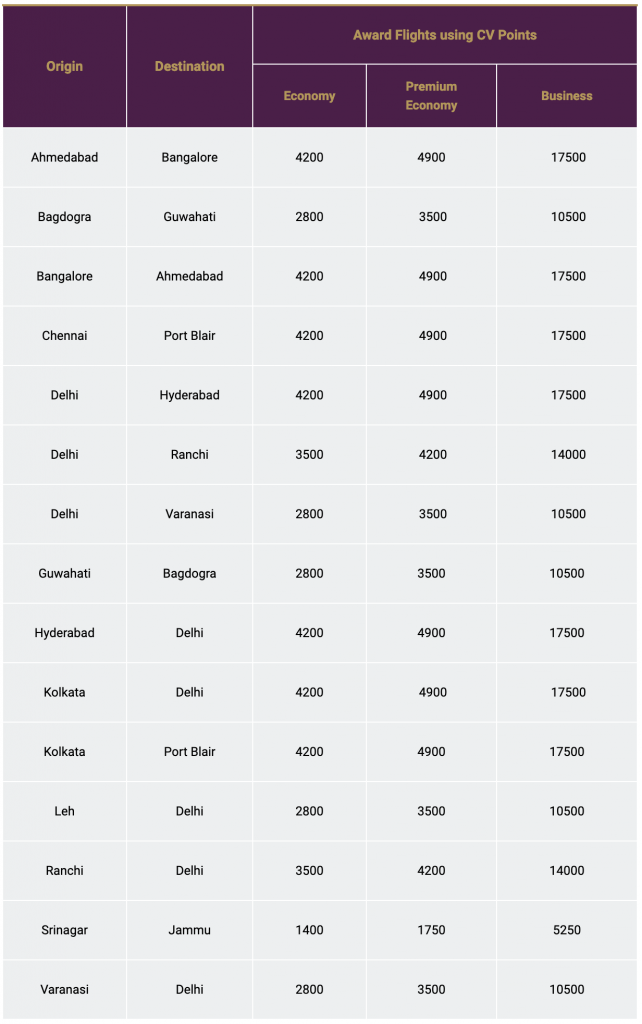 Given the ease of availability & redemption, I booked BOM-DEL & DEL-MAA (13K Points+Rs.700) on premium economy recently and got both the tickets upgraded to business class using the Vistara one-Class upgrade vouchers that came with CV Gold membership via Axis Vistara Infinite card.
The redemption experience was pretty good & easy. So 30% lower CV points offer is worth availing, if you fly the above routes.
Bottomline
While the destinations on 30% offer are not so popular ones, Chennai-Port Blair sector definitely gives great value for points.
I checked for the rate on Premium economy / March 20th / MAA-IXZ and it costs Rs.7999 which means you get ~Rs1.5/CV Point. So you've about 20 days to make your plans for Andaman 🙂
That all aside, i wish Vistara raises the point earn rate on their credit cards, like 8 Points/Rs.200 (instead of: 6 Points) on their Vistara Infinite card.
What's your take on Vistara's 30% less points promo? Share your thoughts in the comments below.