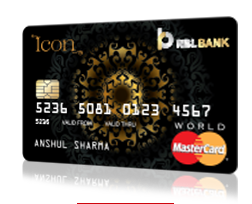 RBL Bank recently added a new card to their system called Icon Credit card which stands above RBL Bank Platinum Maxima Credit Card and RBL Bank Platinum Delight Credit Card and is positioned as a premium credit card according to the bank. It comes with a high joining fee but the welcome bonus is bit less in value compared to the fee paid. Moreover, redemption options aren't so great either.
Joining Fee: Rs.5,000+Tax
Welcome Bonus: 20,000 Points
RBL Bank Icon Credit Card Reward Points:
Regular Reward points:
2 Reward Points per Rs. 100 spent – 0.5% in value (huh? Seriously?)
20 Reward Points per Rs. 100 spent on international and dining spends on weekends* – 5% in value
Max Cap: 2,000 Reward Points/month each for international spends & weekend dining spends
1 Reward Point = ~0.23 Ps
Milestone Reward Points:
10,000 Reward Points on spends of Rs. 3 lacs in a year
Another 15,000 Reward Points on spends of Rs. 5 lacs in a year
Another 20,000 Reward Points on spends of Rs. 8 lacs in a year
So, lets see how much reward rate it has to offer on 8L spend in a year
Total Points on 8L Spend = 45,000 Milestone Points + 16,000 Regular Points
= 61,000 Points = ~Rs.14,000 in value (1.8% value back)
So it maybe worthwhile to take this card if you can spend 8L in a year. Or, you can make the most out of this card, if you have international spends of ~Rs.10,000 a month. Funny thing is, this so called premium card has the same reward rate as that of their semi premium "RBL Bank Platinum Maxima" credit Card which comes at a lower joining fee.
Other benefits:
Bookmyshow Offer: 1+1 Movie ticket (Up to Rs 200) twice in a month at BookMyShow
Hotel benefits: Complimentary room upgrades, complimentary meals and other offers at our hotel partners, which include Oberoi, Four Seasons & Mandarin Oriental.
Features of RBL Bank Icon Card:
CardExpert Rating: 3.5/5 [yasr_overall_rating]
Reward rate: Upto 1.8%
Complementary Airport lounge access: 2 Visits/quarter via Mastercard lounge Access programme & Priority pass membership (no free visits)
Fuel Surcharge Waiver: Nil
Foreign Exchange Markup fee: 3.5% + Service Tax
Renewal Fee Waiver: Nil
Special Features: Reward points based on spend, Free Movie Tickets, Hotel benefits, Entertainment perks, discount on green fees, dedicated Concierge service.
I really wonder how RBL runs its card business with paid cards while the biggest card issuer (HDFC) of the country issues most of its premium cards for free. RBL needs to learn the spend based fee waiver with which HDFC masters the game. If you're able to grab this card for free, its worth it. Else, we always have HDFC Regalia, HDFC AllMiles, Yes First Prefferred Card with much better benefits and no joining fee.
Whats your take on the new Icon credit card by RBL? Share your views in comments below.