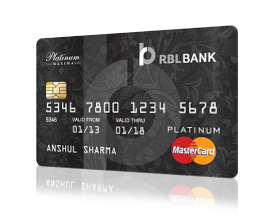 RBL Bank Platinum Maxima Credit Card is one of the RBL bank's semi premium credit card which offers domestic lounge access, spend based milestone reward points and Free Movie Tickets.
Joining Fee: Rs. 2,000+Tax
Welcome Bonus: 8,000 Points
Annual Fee Waiver: Spend Rs. 1.5 Lakhs or more in the previous year
The welcome bonus worth is not actually equivalent to the Joining fee paid, pretty near though.
Reward Points on RBL Platinum Maxima Credit Card
2 Reward points per Rs.100
5X rewards on Intl Spends, Dining, Entertainment, Utility Bill Payments and even Fuel.
10,000 Bonus Points on achieving Rs.2L spend in a yr
10,000 Bonus Points on achieving Rs.3.5L spend in a yr
1 Reward point = 0.23ps – 0.25ps
So, this card is best if you spend about Rs.3,50,000 a year. Lets see how much we can save in that case.
Total Spend of 3.5L in a year = 7,000 Points
Bonus Points = 10,000+10,000 = 20,000 Points
Total = 27,000 Points = Rs.6,200 in Value
Effective Reward Rate: 1.8%
Did you notice that even their basic variant RBL Platinum Delight Credit Card with a low joining fee can get you 5% value back while this one stands at just 1.8%.
Also note that their 5X points on international spends are useless because they charge you 3.5%+tax as markup fee which is about 4% and give back reward points with less than 2.5% in value. That's 1.5% LOSS. For international expenses, Indusind Signature Exclusive Debit Card is my all time favorite.
Features of RBL Platinum Maxima Card:
CardExpert Rating: 3.5/5 [yasr_overall_rating]
Reward rate: Upto 1.8%
Complementary Airport lounge access: 2 Visits/quarter via Mastercard lounge Access programme
Fuel Surcharge Waiver: Nil
Foreign Exchange Markup fee: 3.5% + Service Tax
Renewal Fee Waiver: Nil
Special Features: Reward points based on spend, Free Movie Tickets.
RBL Platinum Maxima Card stands good if you spend about 3.5L a year, however, in this joining fee range, i would rather go for Regalia or Regalia First or even Yes Bank preferred Card which has far better features and offers compared to this. On top of it, these cards are issued for free while RBL never wants to issue any cards at free of cost.
What's your take on RBL Bank Platinum Maxima Credit Card? Share your views in comments below.