HDFC Bank is one of the best banks to have credit cards with. The single reason is the generous 5X, 10X programs that goes on from time to time on HDFC Bank credit Cards. Till now we have seen the offers to be tied up with specific merchants. But now the bank has lowered the bar for earning RPs. From 15th January 2018 to 31st January 2018 if you spend a minimum of ₹15000, then you qualify for 10X points on all your spends during this time.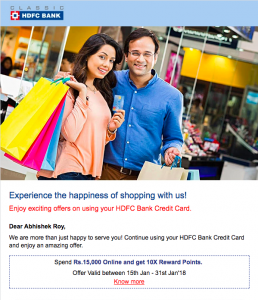 Salient features of the 10X offer:
The minimum spends: ₹15000 to qualify for the offer. So if you spend less than that so you get only 1X normal points on your spends. The moment you cross ₹15000 spends, you qualify for extra 9X points.
The offer is on ALL spends. The email that came up specifically mentioned the word "online" wrt the spends of ₹15000, however, if you go to the detailed SmartBuy page, it mentions "retails spends". It doesn't mention "Online". It's therefore safe to assume that this offer is valid on ALL purchases. However, to be on the safe side, it's recommended that you do ₹15000 online to qualify for the offer.
The 9X RPs will be posted by 30th June 2018. (too long to wait for)
Maximum: 10,000 points
If anyone has more than 1 HDFC Credit Cards then they'll have to call HDFC Customer care to know on which card they can avail this offer.
Source: link
With this you have a lot of 5X and 10X offers going on for HDFC customers.
5X points on merchants like Caratlane, Bigbasket etc for all HDFC Credit Cards.
10X points on Smartbuy purchases for all HDFC Credit Cards
10X points for partner merchants for HDFC Diners Credit Cards
10X points for ALL international transactions on HDFC Diners Credit Cards.
NOW, 10X points on ALL HDFC Cards on ALL spends till 31st Jan, 2018 provided you cross the minimum threshold of ₹15000.
This is a relatively low threshold and an easy target to gain 10000 RPs. For users having HDFC Diners Black or HDFC Infinia, this is a cool ₹10000 in the form of points. For people holding the new HDFC Diners ClubMiles card, this is an opportunity to earn a cool 10K miles. Remember, on cards like HDFC Diners Rewardz, ClubMiles and Premium, usually, there is a 2000 RPs or 5000 RPs limit with 10 X partners. However, through this offer, all cards can earn upto 10000 RPs. So make the most out of this.
UPDATE: It seems a targeted offer. They have updated their terms saying you have to spend online/offline based on what communication(email) you received.
How do you find this offer? Isn't HDFC has started being very aggressive after the recent onslaught by Yesbank running equally good offers? Please leave you comments below.