It is a busy time of the year, not due to work, but due to the level of sales and offers going on various e-portals and credit cards which we have been writing about. But just to take a break from the monotony, I had the chance to travel to UK recently and thus I made it a point to review a few lounges. We chose our itinerary in such a way that we could visit multiple lounges while on our way to London. We reached Abu Dhabi International Airport where our layover was for around 4 hrs.
So we headed to Al Reem Lounge in the Terminal 1 after walking for about 15 mins from our landing terminal which was I guess Terminal 3.
Al Reem Lounge at Abu Dhabi Review:
Check-In:
We had two options of getting complimentary entry in this lounge. One was Priority Pass and the other was HDFC Diners Club Cards (HDFC Diners ClubMiles, Premium and Black gives access to this lounge). When we reached at the counter, I was asked that what medium will I use get access. I showed them our priority pass. On seeing the PP, he asked me that this lounge is a little mediocre one in comparison to the other lounge (They were talking about Al Dhabi Lounge) they have and that we will have a better experience going to the other lounge instead.
While what he did was perfectly fine considering the fact that for each non-complimentary lounge visit, PP charges you, $27/entry. So he tried to save me some quick bucks. Little did he know that we had unlimited access to any PP Lounge. So we insisted that it doesn't matter, we will take a look at the arrangements. relax a bit and then move on to the other lounge. He gave a baffled look to which I smiled and he smiled back.
Seating and Interiors:
The lounge was beautiful. It was a relatively small lounge but was very neat and smelled great. The interiors had seating facilities for families as well as individuals. There were tables near the food section area as well as couches to nap off for those long layover flights. We got comfortable after looking around for a bit. There were plenty of room to sit and very few people around.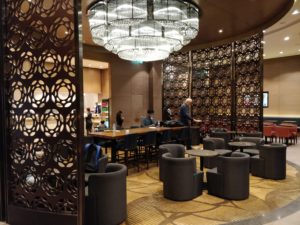 Food and Drinks:
The Lounge had a moderate spread of buffet. You have pretty much anything starting from many kinds of non alcoholic beverages to starters to main course and desert.
The drinks had a range of tea, coffee (espresso, cappuccino, machiato etc), detox water, fruit juices and aerated cold drinks. The lounge also had a bar where one could pay for alcoholic drinks. The only time lounge doesn't serve alcohol was around the month of Ramadan (Ramzaan).
Food consisted of soup- One Non Veg and One Veg. The starters had options of lots of kebabs. The choice was for chicken, lamb and steak. The main course had Biryani, Rice, Naan along with various dishes both veg and Non Veg.
Desert: The menu for the desert was quite elaborate. Various kind of sweets and cakes were available. To top it all, there was option of 3 choices of ice cream.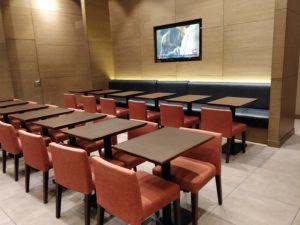 Lounge Service:
Over all the experience was nice. The staff members could easily be approached and were ready to help you with any information you needed. They were courteous and always smiling. They had 2 toilets and and option to take a shower.
Overall Experience at Al Reem Lounge:
CardExpert Lounge Rating: 4/5 [yasr_overall_rating]
Wi-Fi: Yes
Food: Complimentary Buffet except alcoholic  drinks which are chargeable.
Ambience: Good
Service: Courteous, Television, Shower Facilities, Newspapers/Magazines, Fax etc
Complimentary Access: Priority Pass, HDFC Diners Cards, Dragonpass etc.
Have you been to this lounge? Is it good enough? Please share your likes or dislikes in the comment section below.