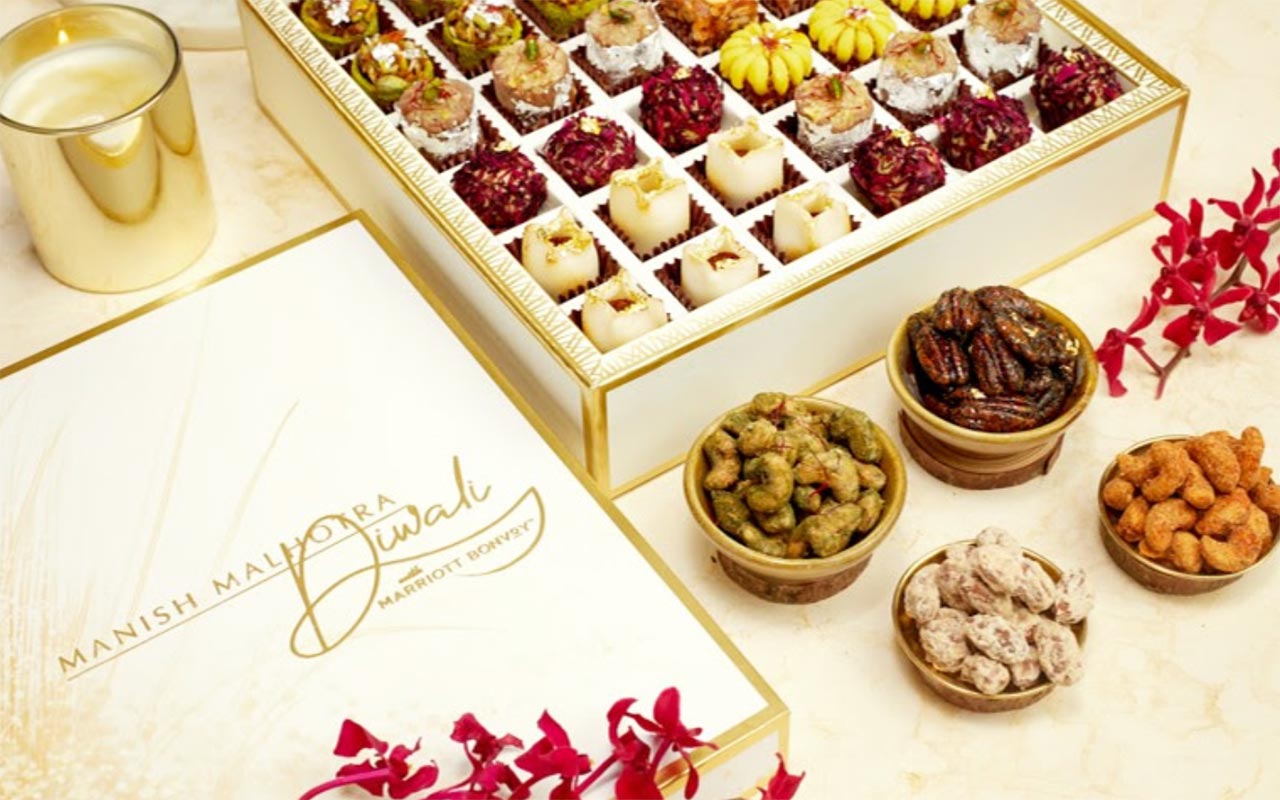 Bonvoy offers designer collections of Diwali Sweets, in partnership with renowned fashion designers. Marriott tied up with leading fashion designer Manish Malhotra last year to promote exclusive festive treats
This year is no different with the tagline "Manish Malhotra Diwali with Marriott Bonvoy". Marriott hotels (India) participate in this annual festive promo offer as a ritual, every year
All ingredients for these delicacies are locally sourced & no artificial sweeteners are added. Each box consists of 6 handcrafted delicacies- Gulab Peda, Cokhoya, Not just a Dodha, Gurmewa, Pista Mista & Millet Mithai.
Festive Sweet Box
Festive sweet collection is available in 3 variants–
Box of 36 artisanal sweets: 6 assorted flavors, 6 pieces each priced ₹2600+ GST or 6300 Bonvoy Points (Earn 320 Bonvoy Points on Card payment)
Box of 18 artisanal sweets: 6 assorted flavors, 3 pieces each priced ₹1500+ GST or 3600 Bonvoy Points (Earn 180 Bonvoy Points)
Box of 12 artisanal sweets & 4 Spices nuts: 6 assorted flavors, 2 pieces each + 4 Spiced nuts priced ₹1800+ GST or 4300 Bonvoy Points (Earn 220 Bonvoy Points)
Point rate comes to about ~40ps while ordering sweets as above. However, note that most South Indian Marriott properties are not enabled for this points redemption and generally these sweets are shipped only within the city limits.
How to Order?
Whatsapp on +91-9710082100 (or)
Call on 01143169690
Within 24 hours you get a callback from one of their local team members.
Details like Marriott Bonvoy Number, Delivery address, Billing mode, Qty, Delivery date etc. are asked subsequently via Email/Whatsapp for processing of the order
Payment options
Payment can be done either via redemption of Marriott Bonvoy points or by any Card (not necessarily AMEX)
If you don't have a Marriott Bonvoy account & placing order via Card, I suggest you to create a Bonvoy account first, so as to receive Marriott Bonvoy points against the order
My Experience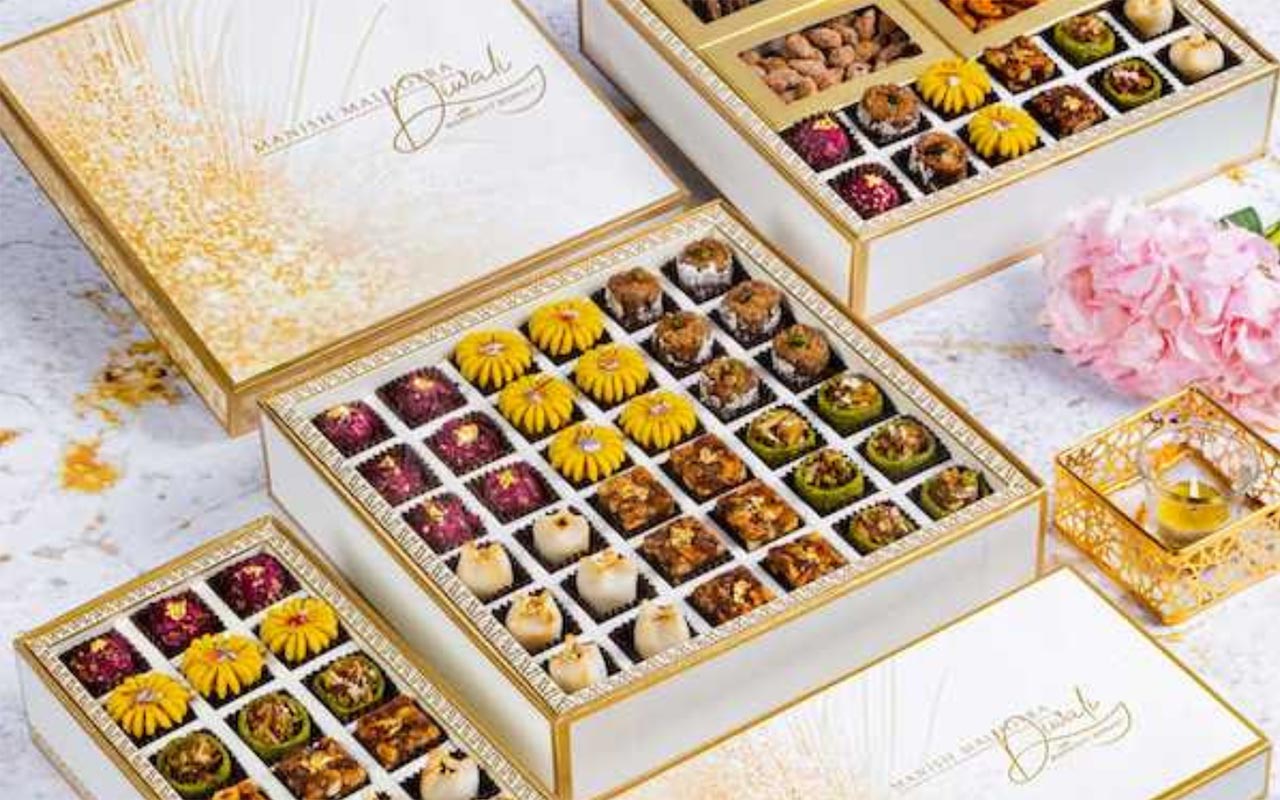 Ordered a box containing 36 artisanal sweets via redemption of 6300 Marriott Bonvoy points. Delivery was made the next day (just before Dussehra) by "Fairfield by Marriott" staff with prior call information.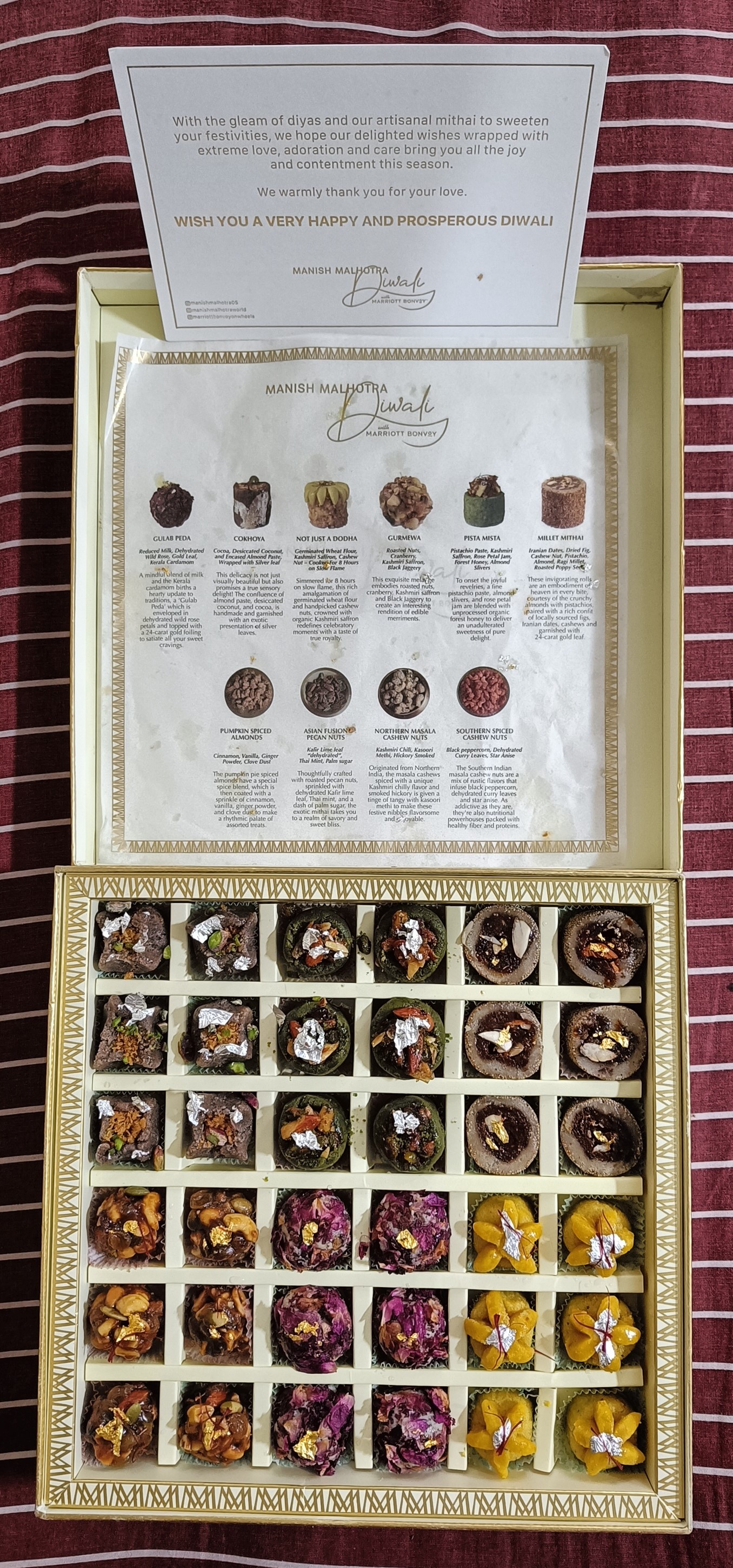 Whole process was smooth & local Marriott executive, Jitendra Singh was in constant touch to make sure the delivery experience is hassle free. Also enquired him a lot before this post so as to do justice to the article and he gladly & patiently answered all
Important Points
Usually this campaign starts ~2 months before Diwali & ends on Diwali day
Cities having a Marriott property are covered. For gifting, local property at its own discretion may decide to send it to non-Marriott cities via courier (extra delivery charges applicable)
Delivery modes- hand delivery by local Marriott staff, Courier, Self pickup from nearest Marriott property
Delivery takes a day or two after placing the request
Shelf-life of the sweets are easily 1 week or more
Out of the 6 varieties as per my experience, sugar content in 4 were on little lower side
Bottomline
Although the taste, presentation, design & quality of the sweets were very good, I feel price is on little higher side (could be because of Manish Malhotra/Marriott name & fame) as compared to competition
Nevertheless you can't go wrong if you are flushed with Marriott Bonvoy Points & looking for posh gifting ideas
Having said that, I won't recommend Cash/Card burn for this purpose. Even Taj & ITC Hotels are offering wide collection of festive gift hampers. May explore them next year
Did you order a box from this festive collection or planning for one ? Feel free to share your experiences in comments