Many of us who love Credit Cards cannot deny the fact that IndusInd Exclusive Signature Debit Card which comes with IndusInd Exclusive Savings Account is one gem of a card when it comes to Foreign transactions. However, recently there have been some major changes in the Exclusive banking portfolio which has made it evident to review the same in the light of the changes and thus reconsider if it actually now suits the purpose of not.
Changes in Exclusive Banking Porfolio – Negative Changes
Introducing IndusMoments: Another major blow for people using this Signature Card or other Debit cards from IndusInd Bank is that, earlier the points could be redeemed against cash credit to statement or Jet Miles. Now the entire option have been ditched for something know as IndusMoments. This is again a major devaluation as the points are to be redeemed against vouchers. Say for example a ClearTrip or Westside voucher worth ₹1000 will now cost 2082 points. This way the valuation of points is even less than 50 paise.
AQB Increased: Initially the AMB/AQB was 1 Lakh for Single operated accounts, now a new option can be seen. They have now kept the criteria of AMB as 1Lakh/2Lakh based on the location of the branch. So kindly contact the branch or customer care to know if you now have to keep 2Lakh as AMB/AQB or not.
Small Charges are not good: The IndusInd Exclusive Signature Debit Card can now accrue points only against ₹200 spent. Earlier it used to be spends against ₹100. This makes the reward points reduced to half. This is a major devaluation of Reward Points.
Redemption Limits: One more blow is that there is a cap as to how many points can be redeemed in a single month. The maximum points that can be redeemed in a single calendar month is 5000 only. This is another bad news as you cannot even accrue points for a bigger purchase.
Exclusive Account Eligibility – Positive Changes
Recently, a new eligibility criteria for relationship value has been added for Exclusive and Select Accounts.
Now, if you hold Indulge/Pinnacle Credit Card, you can still keep an no-frills Exclusive account. In this case, you are exempted from maintaining any AMB/AQB. It actually becomes a zero balance account for all your family members too. There are also other eligibility criteria as below,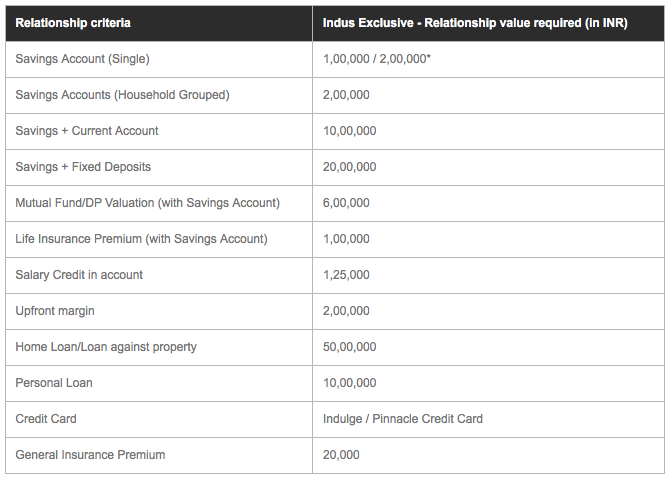 Similarly for Select Savings Bank Account too, Credit Cards like Signature/Legend/Odyssey JP Card can qualify you for a zero balance Select Account. This is really good for a HNW individual and for those people who already have these cards as you already qualify for a premium banking service. I'm sure many can make use of this facility.
I cannot think of any more positive developments apart from what I have already mentioned. The benefits might not be much now in comparison to what it used to be earlier. However, I'll still advise against ditching the Exclusive Savings Account.
At least people who travel to lot of foreign destinations should still keep this Exclusive Account and Exclusive Signature Debit Card.
The simple reason is that the mark up fee is still zero (with some meagre tips surcharge, though I really don't know what it is) on Indusind exclusive signature debit card. The second big benefit is that this card allows you unlimited free ATM withdrawal in any part of the world without incurring any extra costs. This can be a real savior for a lot of us.
UPDATE: IndusInd has reintroduce Cash credit. Now each point is valued at ₹0.35.
What do you think about the changes that IndusInd Bank has brought in? Do you intend to keep your account and debit card? Do you intend to upgrade your existing account to Exclusive/Select Savings Account based on your existing credit Cards? Do let us know in the comment section below.