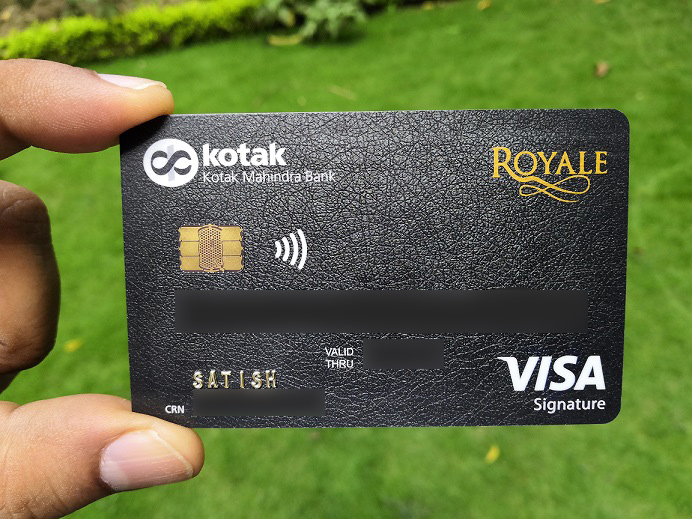 Kotak bank credit cards are not so popular and rewarding in the world of credit cards. Nevertheless being in tier-2 city, it doesn't harm if one is able to grab a premium credit card from well known bank. Off late their merchant offers are on the rise.
Kotak Royal Signature Credit Card, one of the most premium offerings from Kotak bank stands a tad below 2 of their cards viz. Kotak Privy League Signature Card, Kotak Wealth Management Infinite Card but both require quite handsome NRV to be maintained as their eligibility criteria.
Rewards & offers available are hardly differentiable between them though.
Joining Fees
| | |
| --- | --- |
| Joining fee | 1499 INR + GST (Paid variant), Nil for Free variant |
| Welcome Benefit | Nil for free variant (Rs.2000 air ticket voucher for paid variant) |
| Annual fee | 999 INR + GST (Waived on spending 1 lac in a year) |
Welcome offer: 2 BookMyShow vouchers of 200 each on applying via online mode and making any kind of retail spend within 60 days of card setup (Applicable for free variant also)
Rewards
Regular Rewards
4 reward points on spending 150 under Airline, Travel, Hotels & International category (Reward Rate: 0.6%)
2 reward points elsewhere, except fuel transactions (Reward Rate: 0.3%)
1 reward point= 0.25 INR (can be taken as cash credit as well)
Milestone Spends
Spend 4 lacs within a year- Earn 10K reward points*
Spend 8 lacs within a year- Earn 30K reward points*
Customer will be eligible for only one offer. So on 8L spend, you get about 1.2% rewards rate, which is not that bad.
Other Benefits
Pros:
Priority attend service on the card where you send an SMS and get call back within 2 hours.
Call for complimentary cheque pickup to pay the monthly bill
Fee waiver condition is very much doable. Domestic airport lounge access 2 per quarter
Cons:
Being the topmost credit card from Kotak, Priority Pass for international lounge access has not been offered
Reward points earning rate is too low to be of significance
Eligibility criteria at 24 lacs per year is very high
Few more things to know:
This credit card is protected form unauthorized transactions upto 2,50,000 per year (Transactions within 7 days prior to call are covered)
Railway surcharge waived online (www.irctc.co.in) and over the counter upto a limit of 500 per year. Wish the limit has been higher!
6 digit pin to use the card online/ POS making it more secure in place of normal 4 digit in other bank cards (Though this is common with all Kotak bank cards I guess)
Option to convert reward points into cash credit or use PayByPoints feature to redeem it at partner merchants like Globus, Archies, O2 spa, Meena Bazaar, Clarks etc (Though earning capability of the card or for that matter any Kotak bank credit cards is too low to be of much benefit)
My Hands on Experience
Applied for Royale Signature credit card via Kotak bank website despite my city being shown unserviceable for it. Flow of Card processing is as below,
10.07.2019- Applied for the card and CIBIL enquiry done by the bank same day
11.07.2019- Received SMS confirming my application
15.07.2019- Bank executive visited my house for address verification
17.07.2019- Bank executive called to ask for company landline no. for verification
23.0.2019- Received email that card has been approved
24.07.2019- Card details shown under Kotak 811 app
25.07.2019- Card delivered
Also heard from some of my friends that they are good at providing Credit Limit Enhancement every 6 months in general to the tune of 30-35%.
Card looks really Premium having Leather type texture, as you can see above.
Bottomline
Cardexpert Rating: 3/5 [yasr_overall_rating]
As can be seen, this premium credit card from Kotak bank returns a paltry 1-1.5% even if milestone spends are completed. Also non-availability of Priority Pass is surprising considering its eligibility criteria at 24 lacs income per year.
Nevertheless, low annual fee waiver condition and some other unique features available make it worth a try.
Have you got Kotak Royale Signature credit card either by Upgrade or on first try? Feel free to share your experiences in comments below.