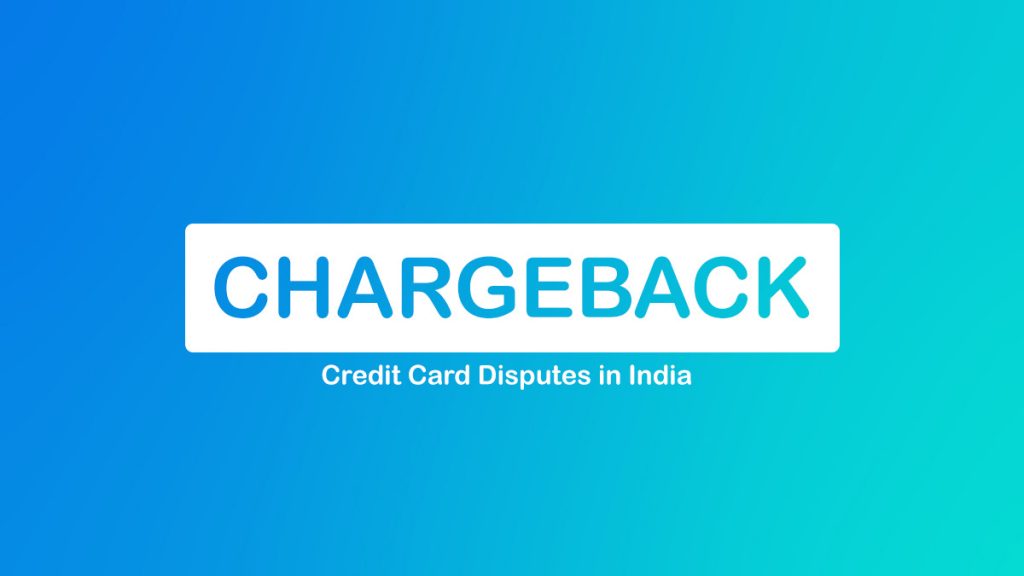 One of the greatest benefit of using a credit card over a debit card or other payment modes is the buyer protection that gives you the ability to chargeback a transaction. Let's see more about it in detail in this article.
What is Chargeback?
In simple terms, chargeback is the return of money to the buyer. Here's an example to understand it better.
Let's say you're buying a product or service from an unknown merchant on a not-so-popular website using a debit card. 
What can you do if the merchant disappear?
You could make a complaint at various levels and "hope" you get the money back.
But if you have purchased it using a credit card, you're lot more safe, as you're automatically covered with buyer protection, meaning you can ask the credit card issuer to refund the transaction stating the issue.
This is known as chargeback globally and dispute in India.
If you're a merchant, chargebacks can be frustrating to deal with. If you're a consumer, chargebacks are godsend and act as a shield between you and the dishonest merchants.
Disputing a Transaction
The process of disputing a transaction varies from one issuer to another.
Some may just require a call to customer care to raise the dispute (like Amex), some may need a signed document (like HDFC, ICICI) and some may even need a FIR (like Axis).
That's right! Axis needs FIR to raise the chargeback.
I was shocked when I came to know this, because getting FIR is not easy in India and also I don't see a need for it, as chargebacks are very common in credit card industry.
This is one of the reason why I always use Amex when I'm dealing with an doubtful merchants, especially for international transactions even-though their reward rate is too low. Because I know its only a call away if things goes wrong.
Along with this, depending on the type of transaction your card maybe blocked while disputing a transaction and a new card will be issued.
Investigation
As soon as you initiate the dispute with the credit card issuer, the investigation process will begin. The usual Investigation period is 45 to 90 Days.
In the normal course of investigation, the bank of the concerned merchant is expected to revert to our query within 45 days, if the merchant contests your claim and provides supporting documents for the transaction.
The 45 days period is as per current time frames of card networks like Visa/MasterCard/Diners.
In the event that the bank receives any such proof in support of the transaction in dispute, the same would be sent to you as and when received from the concerned merchant / merchant bank, for your review and further steps/investigation.
Interim Credit
As you see, the investigation may take couple of weeks/months but chances are your credit call bill will get generated before the investigation ends.
So to give you peace of mind the credit card issuer will give you an interim credit (temporary credit/refund) during the investigation period so that you don't need to pay that amount for time being.
If the investigation ends in your favour there won't be any change, but if it favours the merchant then the dispute amount would be charged to your bill.
My Experience
I've done at-least 20+ disputes till date and I won almost all of those. I usually win as they're either foreign fraud transactions or unknown merchants trying to run away with money.
Here's my experience with Fraudulent transactions on Amex. Generally I see Amex attracts more such fraud transactions but they're lot safer to deal with, as its Amex.
American Express promotes this feature as lost card liability and it is one of the many reasons to have Amex in your wallet.
I've made few disputes on domestic transactions as well. For ex, I had to raise a dispute on CIBIL once, as I was having trouble in accessing the paid account.
Usually for domestic transactions it serves as a mode of escalation, as simply sending an email is not attended with care most of the time.
At the time of writing this article, I've an active dispute running on MoneyControl Pro subscription service in India (non OTP transaction). 
Though, I'm only 50% sure of winning this case as I should have cancelled the subscription prior to renewal.
But I felt they should have intimated about the renewal few days prior, as automated transactions are not so popular in India, apart from Amazon re-loads for that matter. Anyway let's see.
Final Thoughts
As you see, chargebacks could be life saver at times and gives you peace of mind while dealing with fraudulent transactions or unpopular merchants.
But remember not all banks are friendly in dealing with disputes, like Axis wants you to do too much work that can otherwise be taken care over a call like incase of Amex.
So the buyer protection which gives you ability to dispute a transaction is definitely one of the many reasons why you should have a credit card.
But hardly few of the credit card holders actually knew about this amazing benefit, just like most of my friends are not aware of this. Even banks don't promote it much as a selling point, except maybe Amex.
Have you disputed a transaction in the past? Feel free to share your experiences in the comments below.