Believe it or not, for most people in India the word SBI is synonymous with "trust" in banking. The reasons are obvious, the amount of time it is around an the second thing is that it's a govt. bank. Both these factors became instrumental in roping in huge number of customers when SBI decided to introduce it's credit card services in India.
While we may be vocal in the lapses in customer care services from SBICard just as there are with other credit card companies like HDFC and Yesbank, however, no one can deny the fact that SBI with the sheer number of customers may very well be the largest credit card issuer in the country soon. I used to own a SimplyCLICK credit card but for totally personal reasons and not for much benefit, I have swapped it for SimplySAVE card.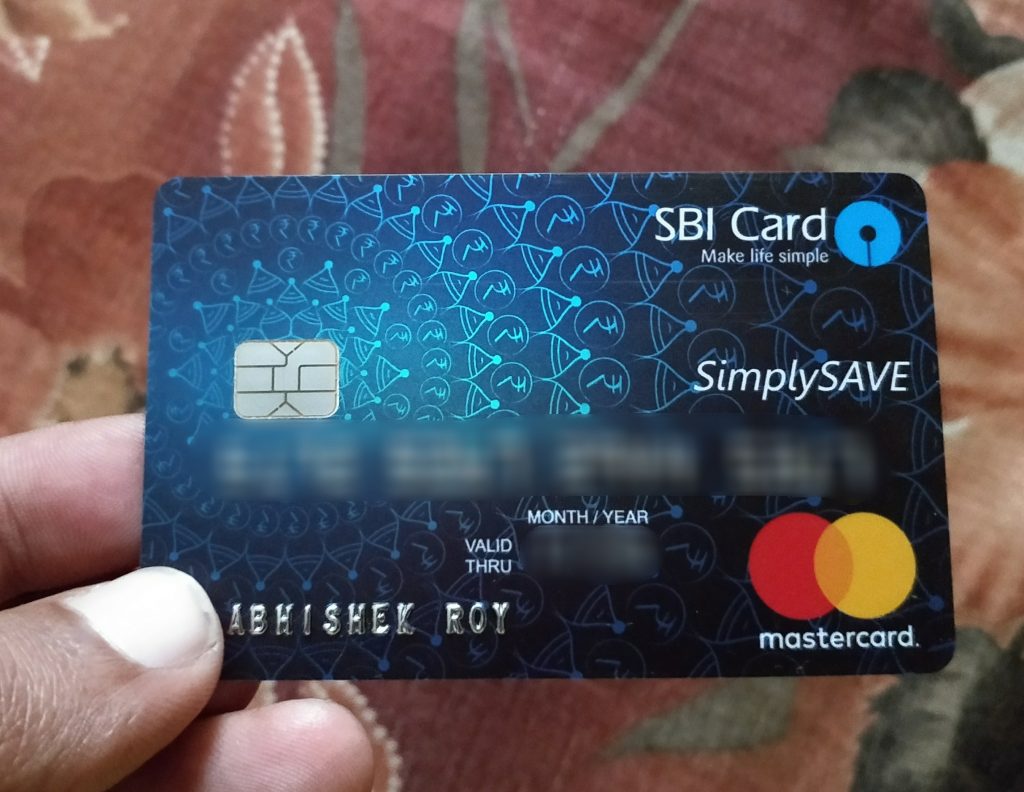 If you consider embossed cards, no one can deny that SBI has some of the most beautiful looking cards in the industry. This card is not an exception too. The card is issued on two platforms- VISA and Mastercard. Earlier, the VISA one came with 'VISA Platinum" written and Mastercard , came in with "Mastercard Titanium" written. I got this card just a few days ago. Since, I held a Mastercard variant of SimplyCLICK card, so when I swapped my card, I was given a Mastercard variant of SimplySAVE card.
It comes in wonderful blue colour with "₹" inside the design. It looks great. The card also flaunts the new Mastercard logo and is devoid of the "Titanium" branding.
Benefits of SBI Simply Save Credit Card:
The card comes with a welcome benefit of 2000 RPs if you spend more than ₹2000 within 60 days of card set issuance. This guarantees the amount of ₹500 as CB for the joining fees that you give (₹500 + GST).
You get 10X RPs for spends on Dining, Movies, Grocery and Departmental Stores. This is the biggest benefit of the card. If you are among the people who have the habit of purchasing stuff from local marts like Big Bazar or so, you'll love this card for getting you flat 2.5% CB. And this is huge as no card with such low joining and annual fees allows such CB.
The Base Reward Earning rate is 1 RP for ₹100 spent (0.25% CB). This is not beneficial for those who spend more on other categories and online shopping. For the online expenditure, SBI SimplyCLICK Cards are more apt.
1% fuel surcharge waiver across ALL petrol pumps. The upper cap of surcharge waiver is ₹100/month for txn spends between ₹500 to ₹3000.
Membership fee of ₹500 + GST is waived off if your annual spends are more than ₹90,000. This is quite easily achievable.
As with other SBI Cards, you can apply for a maximum of 2 add on cards which come for free.
One of the biggest benefits of the card is that you can redeem the points accrued as statement credit. The minimum points required to redeem is 2000 RPs. This is a good way to redeem the points. However, what we don't know is whether there is any redemption fee or not.
One of the biggest advantages of holding an SBI Credit Card is that SBI runs 10-15% off campaigns on websites like Flipkart, Amazon, Snapdeal etc all through the year during many sales. This kind of discounts itself warrants the need of keeping an SBI Credit Card in the wallet. I am sure many of us have used these discounts in the past.
Card Expert Rating: 3.5/5  [yasr_overall_rating]

UPDATE: As many users are mentioning there is a redemption fee of ₹99 + GST. Please ask them before redemption.
What do you think of this card? Do you consider it better for low spenders? Have you owned this card in past or plan to own it for your parents? Do let us know in the comments section below.