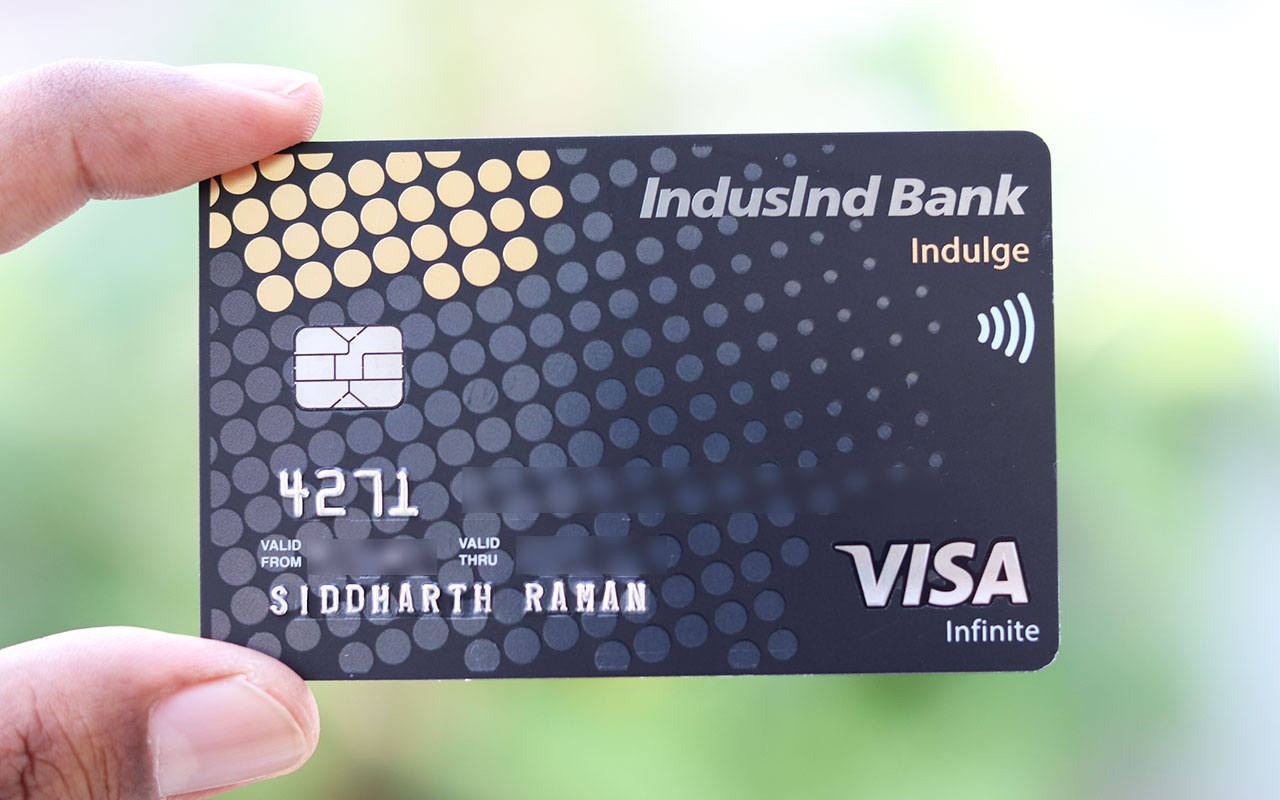 IndusInd Bank has been issuing Indulge Credit Card – the super premium credit card of the bank since past couple of years and they have recently added some new features and benefits that makes it better than how it used to be. Here's the detailed review of IndusInd Indulge Credit Card,
Overview
| | |
| --- | --- |
| Type | Super Premium Credit Card |
| Reward Rate | 1.5% |
| Annual Fee | 45,000 INR+GST = 53,100 INR |
| Best for | Golf & dining benefits |
| USP | Unlimited Golf rounds |
With so many super premium cards in India with much higher reward rate and lifestyle benefits, Indulge Credit Card caters to a very small set of customers in the open market.
Fees
| | |
| --- | --- |
| Joining Fee | 45,000 INR + GST (more options available) |
| Welcome Benefit | Equivalent Welcome Voucher |
| Renewal Fee | 10,000 INR + GST |
| Renewal Benefit | Nil |
| Renewal Fee waiver | On spending >20 lakhs |
IndusInd Bank super premium cards are known for their high joining fees that comes with equivalent premium shopping & stay vouchers.
Indulge can be applied at multiple fee points just like most other IndusInd super premium cards, here are the available options at the moment:
45,000 INR + GST
90,0000 INR + GST
1,80,000 INR + GST
Option #3 comes with no renewal fee, so you don't need to complete the 20 Lakhs (too high) renewal fee waiver criteria to keep the card for free. If you're a Pioneer Banking customer, you may request for a better pricing than option #1.
Note that the welcome voucher for the above options keeps changing from time to time. Generally Oberoi+Vouchagram (or) Postcard+Vouchagram gives wonderful value.
If you do the math, the Oberoi vouchers would ideally cost you ~25K but you can get a value as good as ~40K depending on which property you choose.
Similar math for Postcard hotels as well and those hotels are even more expensive, so you may draw lot more value, as long as you like postcard properties.
Design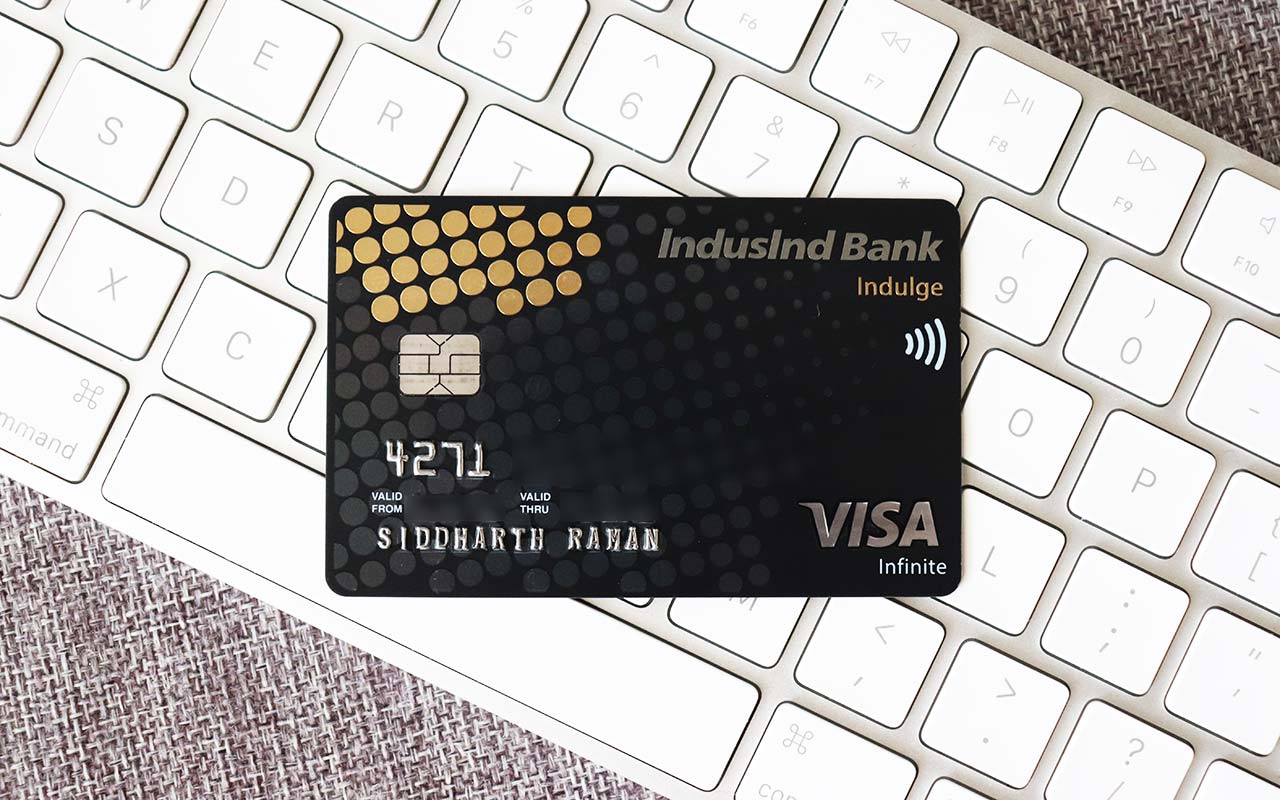 You might have heard of metal credit cards of all sorts but a credit card with 22K pure gold inlay is certainly not something one is used to and that's what IndusInd Bank Indulge Credit Card comes with.
It has a neat and simple design, looks good in reality, just as it is on image. The gold inlay on the card is well done and it looks just like another gold "colour" on the card.
But of-course all that glitters are 22K pure gold, as they say!
Rewards
| SPEND TYPE | REWARD POINTS | REWARD RATE |
| --- | --- | --- |
| Regular Spends | 1.5 RP's on every 100 INR | 1.5% |
| Select Category Spends | 0.70 RP's on every 100 INR | 0.70% |
Select Categories: Utility Bill Payments, Insurance Premium Payments, Government Services, Education Institute Fees, Rental Payments.
The reward rate is indeed pretty low for a card of this range. Some milestone benefit could have helped, but well, as of now we only have this.
Regular rewards includes both domestic & international spends, so spends on foreign currency only incurs a loss, more on that later.
Dining Benefit
Get Rs.3000 off on EazyDiner / twice a year.
T&C: Cooling period between two transactions: 6 months
This is a very good dining benefit that was added recently to the card and it can help you save a nice 6000 INR on dining spends every year.
Caution: This is a nice benefit but they've recently modified this offer to make sure you can't avail the offer easily. Read the updated t&c, call them to verify and then use the offer.
Note that we also have the 30% off on PayEazy with IndusInd Credit & Debit Cards, for a limited period.
Airport Lounge Access
| ACCESS TYPE | ACCESS VIA | ACCESS LIMIT |
| --- | --- | --- |
| Domestic | Visa | 6/Qtr |
| International | Priority Pass | Unlimited |
While above lounge access benefits are good, I think its time for banks to go Axis way by adding complimentary guest access as well on the primary card just like how it works with Axis Reserve Priority Pass.
Golf Benefit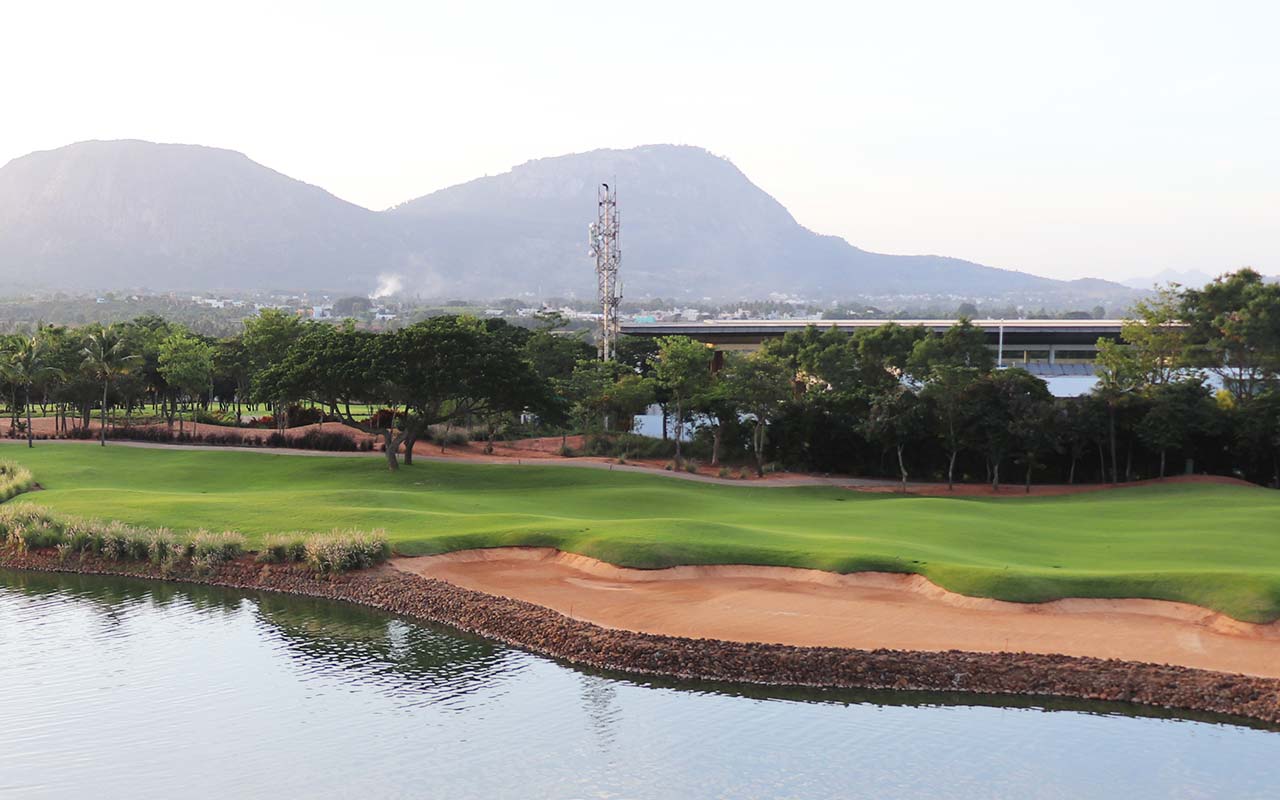 Complimentary Limit: Unlimited games/lessons
Spend requirement to unlock golf benefit: 25,000 INR in previous billing cycle.
Max. bookings at a time: 3
Golf is one of the most important benefit on this card. If you play Golf quite often, this is the card for you.
While it used to accept bookings without any max. cap, they've now added 3 at a time since late Aug 2022.
Bookmyshow Benefit
Offer: Buy one Get one
Valid on: Movie bookings
Max. Cap: Rs.700 off on movie ticket + 50 INR on f&b for every 2 tickets
Monthly limit: 3 tickets per month
Given that now IndusInd has moved to completely free tickets route on the newly launched credit cards like Pioneer Heritage metal and Eazydiner cards, this isn't exciting.
But one can save a lot if you're watching movies with tickets that costs >500 INR. The F&B discount could have been generous though.
Forex Markup Fee
Forex Markup Fee: 1.8%+GST = 2.12%
Reward rate on Intl. Spends: 1.5%
Net gain: -0.62% (loss)
So as you see above, Indulge is not the right credit card for international transactions as you will end up in net loss.
Other Benefits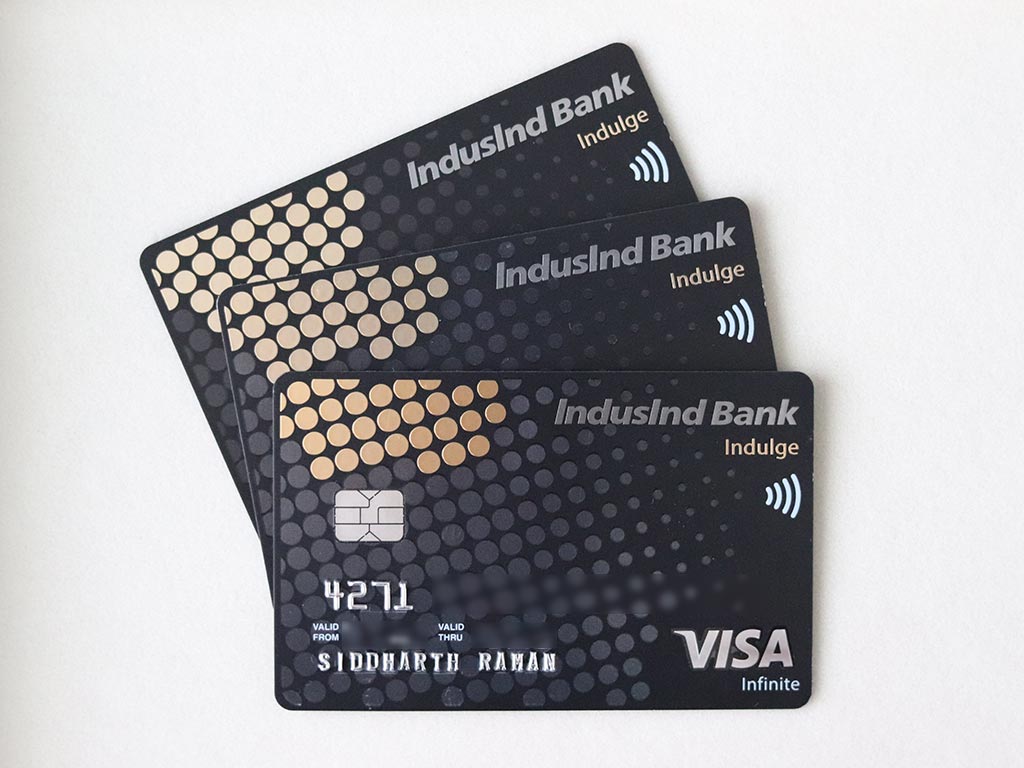 Add-on Cards: You may get upto 5 add-on cards on your account. This comes with domestic airport lounges access but not to International Lounges as Priority Pass access is not complimentary for add-on cards.
No Pre-set Spending Limit: It's not what we generally think though. Indulge also comes with a regular credit limit just like any other credit cards with IndusInd bank. Though, the NPSL feature helps one to go beyond the limit to an extent, but that is limited to just 3% of the assigned credit limit – that's indeed too low to call it as a feature.
My Experience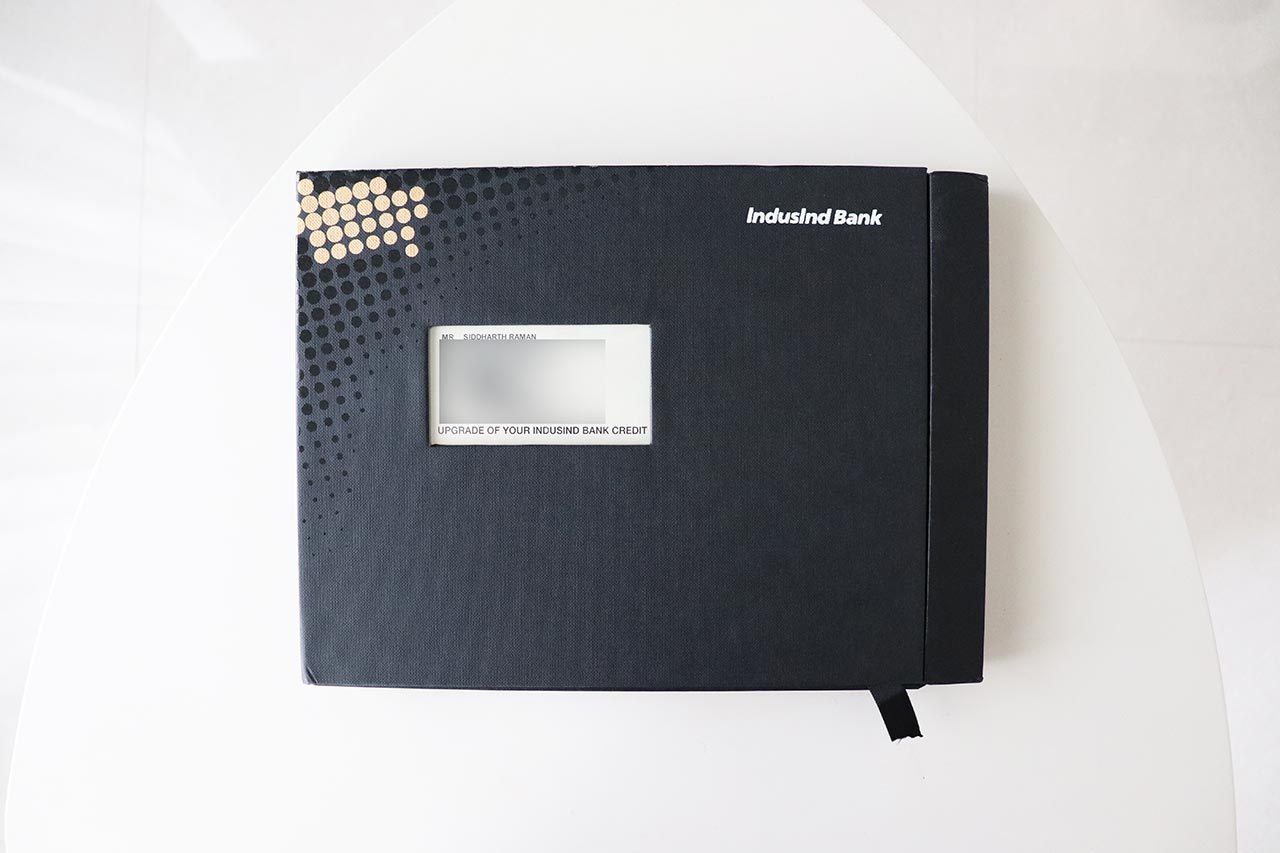 It's been couple of months since I've been holding IndusInd Bank Indulge Credit Card and its a good experience so far.
While the doesn't reward much, I hope the IndusInd Rewardz festival that the bank runs during every Diwali will help to increase the reward rate to a certain extent.
Here's the Unboxing of IndusInd Indulge Credit Card and a bit on upgrade experience.
Bottomline
IndusInd Bank Indulge Credit Card makes sense for those who prefer to Indulge in luxury lifestyle, like stays at Oberoi and enjoy ongoing benefits via golf & dining. But for most others who look for a better reward rate on regular spends, this card might just disappoint.
Moreover, if you've planned to spend 1 Lakh or more on joining fee, you might instead consider the IndusInd Pioneer Heritage Credit Card on Mastercard Variant as it is superior in many aspects and you also get the Mastercard World Elite benefits.
Do you hold IndusInd Bank's super premium credit cards? Feel free to share your experiences in the comments below.