I started using Amex ezeClick when they rolled out an offer few months back wherein you get Rs.1000 Cashback for using eZeClick and i'm loving it already. It comes handy when i want to do multiple txn's on multiple cards without worrying about the credit card numbers.
It makes me feel like wallets like Paytm & Mobikwik are getting outdated and no more required when Banks and CC companies come up with faster checkout process like eZeClick. We could already see the trend kicking in, for example, with PayZapp (no pin for HDFC cards), MasterPass, etc.
It really seems to work well as its been a while i've used a mobile wallet for making online payments. So we now have a decent Bookmyshow offer if you choose to transact with Amex eZeclick. Here's full info:
American Express eZeClick BMS Offer:
Get a BookMyShow Voucher* worth Rs.500 on completing 2 transactions greater than Rs.1,000 each with your American Express® ezeClick ID
Valid Till: 28th April, 2017
Movie vouchers will be emailed within 90 days from the offer end date.
A Movie Money Voucher eCode can be used to book maximum 1 ticket in a single transaction, wherein the individual ticket price does not exceed Rs.500
The convenience fee will not be levied while redeeming the voucher.
The supplementary Card would be treated as a separate Card and should be enrolled separately.
>> Enroll Now <<
This gives you a nice 25% reward rate on spend as you get Rs.500 in value for spending Rs.2000. Supplementary card Terms & Conditions seems to be tricky, though, it appears that we'll get separate vouchers for transacting on Supp. Cards as well.
Don't Miss Supplementary Card Rewards Points Offer: Note that Amex is also running an offer wherein you can get 2000 Points for each approved Supplementary cardholder which expires very soon. Here's the supplementary card Offer: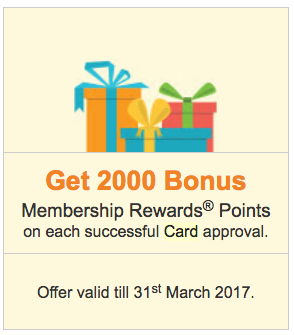 2000 Reward Points gives you a value of Rs.1,000 as Indigo vouchers if you use Platinum Travel Card, or Rs.500 worth of direct cash on any other Amex cards. Its really worth it and if combined with Amex eZeclick offer its really an amazing deal.
Have you Enrolled for this American Express eZeClick Offer? Do share your views in comments below.