One of the popular promo from Amex in partnership with Bookmyshow – Monthly blockbuster movie offer now is back in action. They've modified the terms and conditions this time and the primary objective for Amex is now to push usage on their supplementary cards.
American Express Bookmyshow Offer (New):
The Offer: Rs.1000 /Rs.2000 worth Bookmyshow voucher
Valid: from 1st June, 2017 to 30th September, 2017.
Minimum value of Rs.2,500 per transaction
The Catch: Usage is now mandatory on  Supplementary Card
Reward Rate: 10% on spend
Here are the steps to avail the offer: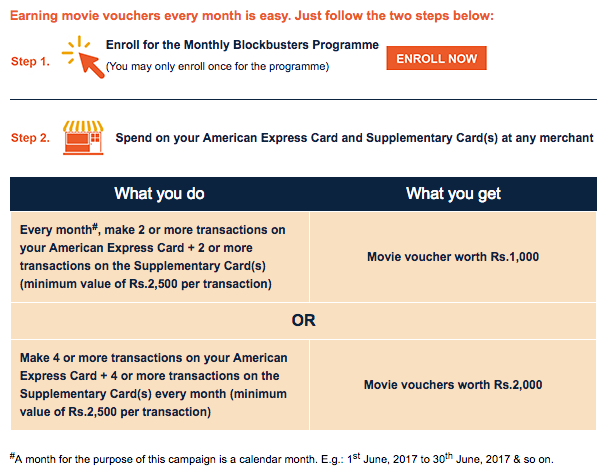 As you can see, unlike before, usage on supplementary card is now mandatory to avail the bookmyshow voucher. This means, not only you, your family member should also be using the card to avail the benefit if done organically. Else, yes you may fill your wallets but 10k is quite high for that unless you are already a movie freak.
While this may be very useful for families those who really use Amex cards for day today shopping, it doesn't seem to be attractive to me. I've been availing the vouchers from the previous offer but this time I'm gonna ignore it mainly for 2 reasons
Supplementary card usage is a pain
Rs.1000 vouchers are useful only in Metros and not in states like TN where the max cap is like Rs.120 per ticket.
What's your take on the New Monthly Blockbuster Bookmyshow Offer by Amex? Share your views in comments below.