Paytm is a household name these days. More so, after the demonetization move by the Govt. of India that took place. These days you can see merchants in many parts of the country accepting payments through paytm. I too was happy with this as I got to use my credit cards more and less of cash thus making me earn more points for the same amount of money that I'll be spending anyway. This is changing from today.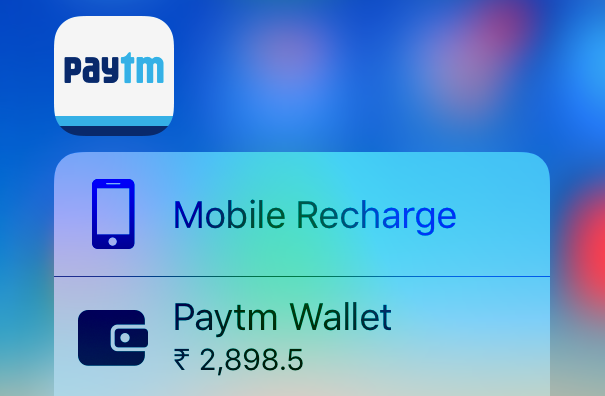 PayTm starts charging 2% extra on Credit Cards
A few days back on 6th February, 2017, Paytm conducted an online survey on their twitter channel:
POLL: Given a choice between Credit Card and Debit Card, how would you like to Add Money to your Paytm Wallet? Please RT.

— Paytm (@Paytm) February 6, 2017
I was very vocal about it and I decided to stop using it if this will be the case.
Today after about a month after that poll, Paytm actually started charging 2% fee on Credit Cards. However, I can confirm that they are NOT charging any extra fees for loading money into the wallet from Debits Cards.
What are the finer points that we have to keep in mind?
If you were using credit cards to load money into Paytm wallet through your credit cards and thereby earning RPs through it, it'll be a serious setback for you as you'll in most cases lose more than you gain.
If you still want to use Paytm, you'll have to use Debit Cards which are still being allowed to load money into the Paytm wallet for FREE.
If you are using Paytm for any recharges or buying anything from Paytm marketplace, Paytm will NOT CHARGE any extra fee even if you pay through your credit cards. The reason is that in this case, Paytm charges the merchant itself.
So, if you want to use Paytm as just a payment facilitator and thus pay for recharges, bill payments or buying stuff from Paytm marketplace, you STILL USE CREDIT CARDS.
However, using Credit Cards to fill up your Paytm Wallet is a strict no no.
They have said in their blog post that if the wallet is loaded through credit cards, they will issue a 2% coupon and thus there will be effective reversal of charge. However, one needs to make a minimum of ₹250 transaction for the qualifying for this offer. I don't know if this will go down well with users like me. Surely, this doesn't go down well with me at least.
As of now, other wallet services like Mobikwik, Freecharge or JioMoney are not charging any extra fees for adding money to their wallets through credit cards. So try using them instead of Paytm from now on if you want to add balance. Or Pay directly by credit card for any recharge on Paytm instead of filling up your wallet first and then using the wallet balance to do the recharge.
Since, Paytm is the market leader among all the wallets, it is yet to be seen if other wallet companies follow this path or not.
With Alibaba holding a major stake in Paytm and the changes they have been making in recent times, I am sure there will be a lot of news that is going to make headlines in the days to come.
If you don't use credit cards and use your debit cards only for your expenses, this decision won't affect your workflow at all.
Update on March 10th: 2% is no more levied on credit cards for wallet loading.
Let us know if this decision from Paytm is justified or not? Will you stop using Paytm for adding balance through your Credit Cards?