We all love credit cards, don't we? At least the ones who have been fortunate enough to read our views at CardExpert would agree with it without any doubt. One of the prime reasons for holding a good premium credit card is the lounge access that comes with it. But you will be amazed if I tell you that there are even debit cards which will surprise you with such offers that are even difficult to get with great credit cards.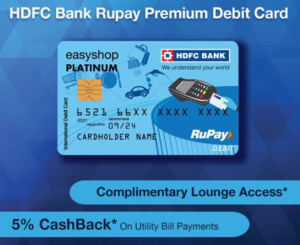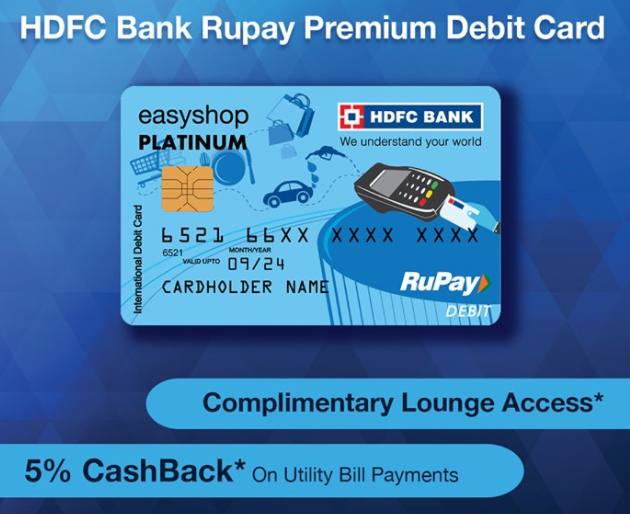 HDFC Bank has two such debit cards. One is the HDFC JetPrivilege World Debit Card which has been upgraded by HDFC Bank to have unlimited domestic lounge access under the MasterCard Lounge Access Program. The second one is the RuPay Premium Debit Card. Yes, you read it correctly. I can bet, most of us don't have this debit card.
Even HDFC doesn't want you to have this card. This is the reason why they don't allow you to upgrade to this card from their netbanking portal. But you can still get it.
Applying for HDFC Easyshop Platinum RuPay Debit Card
You can get this card ONLY by visiting the branch. The branch people will straightaway tell you that there are much better debit cards and that you can get this card by visiting the netbanking portal.
But don't give up. Just firmly tell that you NEED this card and you would using this only for ATM transactions and lounge access. (Funny thing is they don't know anything about this card). They'll call their debit card team and ask them if this is possible or not. But yes, it can be issued through branch only.
RuPay Premium Debit Card Benefits:
Why to get RuPay Premium Debit Card over others? There are few reasons that will convince you regarding the choice:
This card has a annual fee of just ₹150 + ST.
It provides 2 lounge access per quarter.
The lounge access is not just restricted to India. It's 2 lounge access per quarter globally.
The number of lounge is extremely good as they offer almost the same lounges as is offered by Diners Club International Globally.
There are certain lounges in India like Travel Club Lounge T2 (Domestic) Mumbai International Airport which don't accept any major cards like VISA, MasterCard or Diners. They accept Priority Pass, Dragon Pass, AMEX Cards, ICICI (VISA cards), and RuPay Cards. A lot of us don't have the cards that are asked here. But you can easily have access through this RuPay Premium Debit Card.
5% cashback for utility bill payments (₹50/month/per card cap)
No fuel surcharge.
Welcome vouchers of CCD with 15% off on minimum bill of ₹300 on participating outlets of CCD.
Personal Accident Death/Permanent Disability Insurance of ₹2 Lakh
Concierge Service (Amazing, considering the annual fees of the card is just ₹150+ST)
Since NPCI has partnered with Diners Club, Discover and JCB (Japan), these cards will be acceptable even in your foreign visits in case of an emergency.
It allows a decent ATM withdrawal of ₹25,000/day. POS Limit per day is ₹1.25 Lakh/day. Well, no one likes to deal with cash after demonetization and thus ₹25,000/day in my opinion would be enough for most of us.
Cardexpert Rating: 4.5/5 [yasr_overall_rating]
Don't use this card for your regular purchases. You have credit cards for that. But for ₹150 + ST you get 8 access to lounges globally in a year. I think that places it in a much better position than even cards like HDFC Regalia which has restricted the number of complimentary priority pass access to 6 in a year. However, I do recommend to have separate debit card with some other bank as a back up card if you deal with cash a lot.
Let us know what you think about this hidden gem of a debit card I like to call it? How many of you actually have been using this card or plan to take it after reading this article? Please tell us in the comments section.