Rent payments are one of the major expenses for most and the ability to pay rent on credit card gives you free credit period & reward points.
That said, here's an offer over and above regular rewards on HDFC Bank Credit Cards when you automate your rent payments via HDFC SmartPay. The Rent payment service used by HDFC is Redgiraffe.
Offer Details
Infinia: Rs.1000 Cashback on 1st txn
Regalia/Regalia First: Rs.500 Cashback on 1st txn
5% Cashback Offer: For the first time SmartPay Registration, you would get 5% CashBack for first 12 months (Max: Rs 100/cycle). Offer valid till 31st March 2020.
Transaction Fees of 0.39% subject to a minimum of Rs 39/- per transaction shall be applicable for HDFC Bank Cards.
Offer valid till 31st May'19.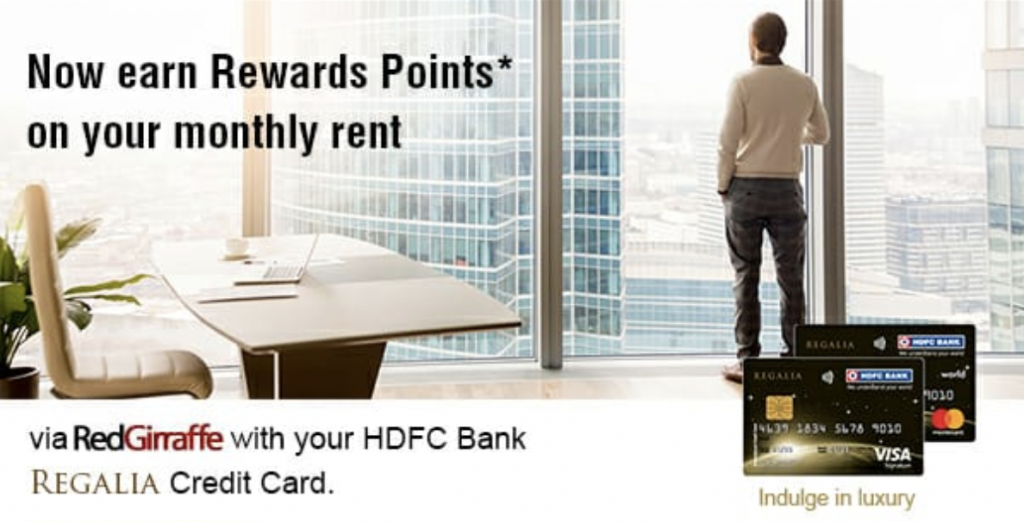 Bottomline
The Cashback offer on Infinia is quite attractive and on Regalia too its decent. While this may sound good, remember, you can also get 5% on your rent payments with SBI Prime Card.
While there was no upper cap earlier on SBI PRIME, now some do say that SBI started capping these reward points. This is yet to be confirmed though.
What's your take on HDFC Rent payment offer and how do you usually pay your Rent? Feel free to share your thoughts in the comments below.