For most of the Indians, an international trip a year is a great achievement considering the expensive flight and hotel stay. Now, What if i say the luxury hotel stays are reduced by 60%, Sounds good? Here comes Makemytrip & American Express to make your Dream vacation a real.
I recently wrote about how i stayed in a 3 Star hotel at just Rs.979/day by making use of the American Express Makemytrip Offer on Domestic Hotels. Basically American Express is running quite a lot of promotions in recent time to penetrate the highly growing Credit Card market in India and now they've come up with yet another unbelievable instant Discount on International Hotels. Offer Details below,
Amex Friday Special Offer on Makemytrip:
Offer Dates: 18th November, 25th November and 2nd December, 2016.
Promo Code: AMEXSALE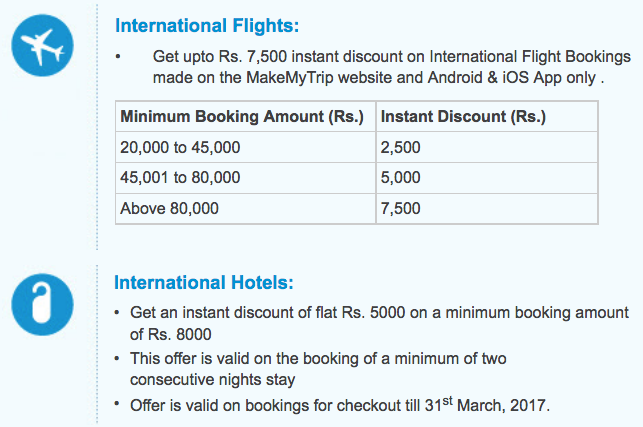 The offer is too tempting to resist and i've already started pre-planning my upcoming Vietnam trip with this offer. I did a quick research and got some details for you.
Note: While the offer is best for Intl hotels, it can also be used for Flight Booking. But i prefer to book Flights with HDFC Diners Black to avail 10X Rewards. That's a sweet 33% with Diners black, while with this offer, you get only around 10% on Flights.
Tips to make most out of the Makemytrip offer:
Book for 3 nights consecutively with Booking value of Rs.8000 or more and apply coupon code which makes it just Rs.3000 (Rs.5000 Instant Discount)
For even better luxury hotels, look out for 2 Consecutive days amounting above Rs.8000 and the apply coupon.
Sometimes you can change the dates at hotel end even if you book for 2 days consecutively. (like 2 rooms same day if you're traveling with many)
Remember, the offer is only on Fridays. Why Friday? I guess its a result of the upcoming Black Friday season in foreign countries.
Personally, i prefer the first option as it makes Rs.1000/day for 2 people with Breakfast in a foreign country. Damn cheap it is! Its time for International Trip. Isn't it?
What's your take on the offer? Share your thoughts in comments below 🙂