All of us are searching hard to find the best credit card with higher reward rate through points or as direct cash back. But we're missing out some unbelievable offers that are available even on debit cards. Once such card is axis bank's priority debit card that can easily save you 10% of your spends made online. Let's dive into the details.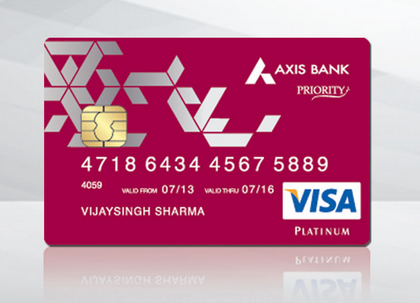 Cashback Offer details on Axis Bank Priority Debit Card:
Priority Customers spending Rs. 20,000 or more, online, in a quarter on their Priority Debit Card (only online spends) will get to choose from one of the below mentioned rewards, every quarter:
10% Cash back capped at Rs 2500 / quarter (or)
Option to convert above cash back to equivalent eDGE loyalty points
"Quarter" is defined as below:
"1st January to 31st March"
"1st April to 30th June"
"1st July to 30th September"
"1st October to 31st December"
So basically you need to spend Rs.25,000 online in a span of 3 months to avail a maximum cashback of Rs. 2500, considering 4 quarters in a year, that's about Rs.10,000 in savings just for using a DEBIT card.
It's a perfect fit for most of the families who spend about 1Lakh on the card, on quick research I just realized most of my friends are fitting in to this category and they can save 10k very easily. But the downside is the minimum balance that you need to maintain to avail this card.
Redemption:
Once you've done the purchase, wait for a week or two and then you can claim the offer by clicking the offer page which pops up at the bottom of the screen once you login to the net banking a/c. Its a 2 click process and you get the funds on your linked savings a/c instantly as below.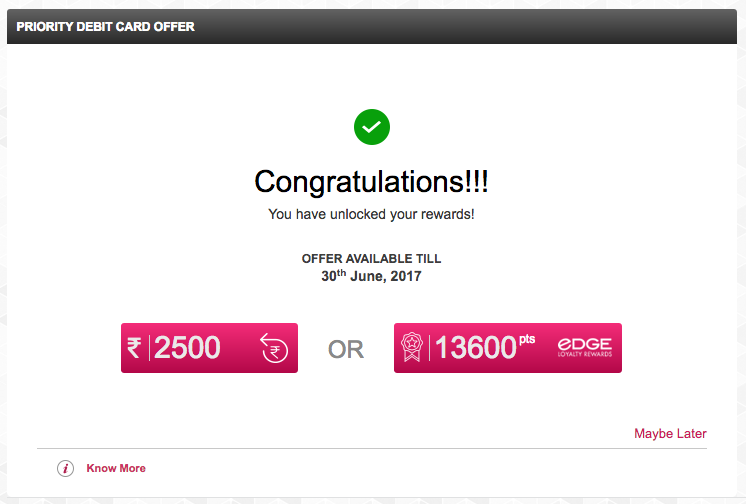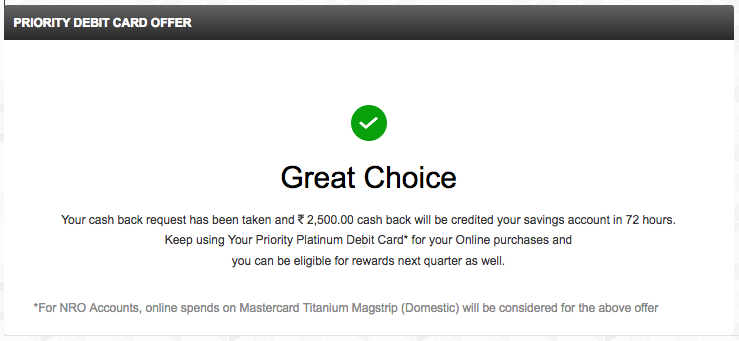 How to get Axis Bank Priority debit card:
Open priority savings ac with 2 Lakh balance
You need to maintain AQB of 2 Lakh to keep this card free.
If you're upgrading your ac from regular savings ac to priority, ask them to issue priority debit card post account upgrade.
My account upgrade was a big headache and as it fell under the demonetization days, it went worse. It took them about 2 months to upgrade my ac, but if your planetary positions are good, you may get it done in a week or two. It's relatively easy to open a new priority ac on other hand.
So from the array of debit cards, this is the BEST DEBIT CARD you can ever have in the cashback perspective and next comes the HDFC debit card that gives you 1% cash back on both online/offline spends upto Rs.750 a month.
Cardexpert Rating: 5/5 [yasr_overall_rating]
Do you use this axis bank priority debit card? Share your views in comments below.