Citibank Premier Miles credit card was a favorite card for many until it got devalued heavily last year. Its one of the premium credit card issued by Citibank under Visa Signature Variant and as we know, any card that gets into many hands typically ends up in some kind of devaluation as banks are here to make money and not see us redeem the points promptly 😀
Premier Miles got its status because of its feature to transfer reward points to lots of international hotel/airline loyalty programs. Only Citibank has the major hotel points transfer partners as Citibank is a multinational company and partnering with international hotel chains/airlines is not a big deal for them.
Citibank Premier Miles Welcome Bonus & 10X Rewards
10,000 Miles with your first spend of Rs.1,000 or more on your Citi PremierMiles Card within 60 days of Card issuance
3,000 Miles on Card renewal.
Points Earn Rate: 4 Miles for every Rs.100 spent
10X points with Specific partners like Makemytrip
1 Reward Point = Rs. 0.50 (as per my calculation)
Annual Fee: Rs.3000+tax (compensated well with 10k miles welcome bonus though)
You can book revenue flight tickets using the miles using PremierMiles website, which is more like HDFC Regalia website. HDFC Premier Miles is managed by Goibibo, and so flight booking gets easy for them this way.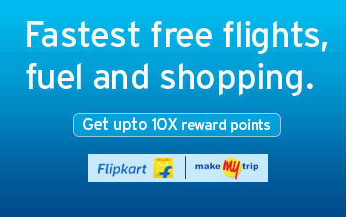 Features of Citi Premier Miles Credit Card:
Card Expert Rating: 8/10
Reward rate: ~2%  normally, upto ~5% on accelerated 10X rewards
Renewal Fee: Rs.3,000+tax
Complementary Airport lounge access: Yes,  2 visits per quarter to Visa Signature lounges
Foreign Exchange Markup fee: 3.5% + Service Tax
Overall, Citi Bank Premier Miles Credit Card has pretty good benefits to be rated under Visa Signature platform, but it doesn't sound great as HDFC Regalia which gives better Markup fees and 12 free Lounge access via Priority Pass Lounge program.
However, i'm thinking to get hands on Premier Miles Credit Card and eventually on Citi Prestige card mainly due to its hotel points transfer ability. Wish to play with Hotel Loyalty programs in near future 🙂
Do you hold Citi PremierMiles Credit Card? Do share your experience in comments below.